Mining ESG Insights:


Achieve Zero Harm +
Zero Carbon.


Scroll down to access free resources and discover how Industry 4.0 technology can enable you to improve & track ESG performance, make reporting effortless + achieve zero harm and zero carbon objectives.

Industry 4.0 technology enables miners to

get the real-time ESG metrics you need

+ all-new abilities to improve them from anywhere.
At all stages of the mining lifecycle and across the entire value chain the environment and community are affected and impacted in multiple, evolving ways.
Regulatory limits, industry standards and judicial intervention has shaped miners' environmental approach over the last century, but adhering to these rules is expensive and we're reaching a point where compliance and old approaches are no longer sufficient - miners and the businesses that serve them need to do more with the goal now set at zero: zero harm, zero carbon, zero waste.
This isn't news. In numerous reports of global mining executives in recent years, Environment, Social and Governance (ESG) issues comes out as the major challenge facing the sector - above capital access, uncertain demand, workforce, productivity and digital/innovation. Why?
There are many answers to this. Outside of medium-to-long-term zero carbon arrangements (such as the Paris Agreement, COP26 and government targets), the societal and political zeitgeist has evolved to a point where, although the sector's role in achieving energy transition is undeniable, it needs to do and be seen to do more. Simply put: poor ESG performance adds risk.
What's more, the consequences of missteps have grown significantly at both a corporate and individual executive level (see Rio Tinto's experience at Juukan Gorge or Vale's at Córrego do Feijão). Miners' ability to expand or open new sites are now subject to stricter LTO and capital requirements that factor in short, medium and long-term ESG risks: the sustainability of the sector and success of the people that work within it are now even more directly tied to the environment and the community that surrounds their operations.
Industry 4.0 technology will play a significant and ever-growing role in enabling miners to seize new benefits; achieve their zero carbon, zero harm and zero waste goals by predicting and mitigating problems to prevent harm from occurring; and allow the mining sector to be the responsible environmental custodians (and prove it) that they need to become in the evermore environmentally-conscious future that awaits us.
Our sustaianability solutions enable you to effortlessly track these ESG + any other metrics in real-time:
Air pollution per metric ton of output produced
Carbon tonnage
Closure status
Diesel footprint
Electricity purchased
Embodied energy
Energy usage
Environmental incidents
Fluoride emissions
Fuel consumption
Hazardous waste per ton of output produced
Incidents with security providers
Land footprint disturbed / regenerated
Mineral waste stored / disposed
Non-mineral waste stored / disposed
NOx emissions
Operating assets located in protected areas percentage
PM2.5 & PM10 emissions
Pollution incidents
Project delays as a result of community opposition
Proved/probable reserves in or near protected areas
Radiation levels
Recycled water percentage
Recycled water withdrawals percentage
Remediation score
Renewable energy in energy mix
SOx emissions
Scope 1 emissions (tCo2e)
Scope 2 emissions (tCo2e)
Scope 3 emissions (tCo2e)
Significant environmental incident rate
Social Energy balance
Spending on site restoration
Sustainable Mining Indices
Tailings and waste per metric ton
TCFD status
TOE footprint
Total fresh water consumed
Total fresh water withdrawn
Total greenhouse gas emissions intensity
Total lifecycle energy
Total waste
Utilization of mining waste percentage
Water consumption rate
Water discharge rate
Waste recycled
Wastewater volume
Industry 4.0 technology can enhance mining ESG metrics + achieve

sustainable

zero harm:
Accurately monitor real-time ESG performance + key TCFD, SDG, Carbon or any other metric, from mine-to-market across all-time.
Track waste & monitor pollutants in real-time. Predict + prevent harm using easy-to-use predictive analytics.
Model operational changes, aggregate risk profiles + see the effect of optimizations on zero harm ESG goals.
Alleviate the regulatory burden + get an accurate, single source of truth for all your environmental data with one-click reporting.
Unite business-wide environmental data, analyze it using Machine Learning, & enhance EIAs, SIAs + Closure plans.
Create a complete Industry 4.0 solution with automated, AI-led decision-making - transform your business.
Tell us the metrics you need and we'll tell you to get them,

anywhere

+ anytime.
Free Insights:
discover how Industry 4.0 technology can enable you to easily improve your ESG performance, both fast & affordably.
Discover how Industry 4.0 technology can enable the mining sector to achieve strategic ESG goals.
Want to see how you can track ESG performance in real-time + utilize predictive analytics?


Book a demo today.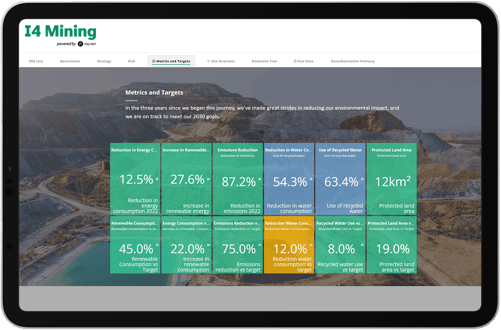 Create a complete Industry 4.0 solution with automated, AI-led decision-making - transform your business.