Making sustainability real.
Accuracy, transparency + simplicity

.
An easier way to monitor, manage, report +

improve HSEC performance

.
I4 Mining provides the mining sector with ready-to-deploy sustainability solutions that make it easy to collect and connect businesses to their HSEC data, improve its accuracy and depth, and then utilise it to deliver reports and real-time performance optimisations, simply.
Easy-to-use, fast-to-deploy, and designed to help you no matter where you are on the digital sustainability pathway; we enable you to conquer the complexity of establishing your true performance, easily leverage predictive analytics and AI to project future scenarios, and eliminate or mitigate risks in real-time.
Schedule a demo today to discover how we can transform and simplify anything to do with HSEC.
Discover more:

Download our brochure

.

Want to find out how we can make sustainability simpler for you?

Speak to us today

.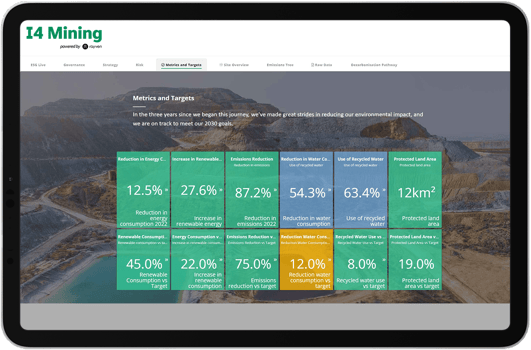 Get everything you need to

accurately track sustainability metrics

and make better HSEC decisions in one place.
Our sustainability solutions enable you to collect, combine and unite all of your sustainability data from anywhere - even in real-time, report on key sustainability frameworks and wider business objectives in a single click, and utilise predictive analytics to forecast scenarios and model outcomes; improving HSEC performance from mine-to-market.
Our technology reduces complexity and risk, delivers efficiencies, and enables you to plot a successful, transformative path to 2050.
Explore our

ready-to-use

sustainability solutions

:
ESG Live consolidates your ESG data for centralised live reporting; delivers accurate real-time sustainability metrics; and empowers you with predictive analytics to plot a pathway to achieving sustainability objectives.
EYEMine enables you to review key measures in real-time, assess machine and operator performance, and execute insight-led decisions: no assumptions, calculations, or estimates.
Safety Control is an easy-to-use solution that enables you to improve onsite ESG + safety by mitigating evolving risks in real-time.
Allow I4 Mining to give you the solution that you need to achieve your sustainability, ESG + SDG objectives.
We can ingest, integrate, and interpret any + all of your sustainability data from anywhere to make monitoring and managing performance, simple:
Discover more about I4 Mining, our solutions, and the technology that they're built upon.
Get real-time alerts + reports, with

complete accuracy

, in one-click:
The reporting burden is very real for miners.
With local, regional, national and international reporting and compliance commitments around environmental, safety and many other areas, it can be all consuming for executives and sector-heads.
We make it possible to create live dashboards and complete performance reports of your SDGs, TCFDs, sustainability frameworks - or anything else - at the click of the button.
Our sustainability solutions decimate the reporting burden and makes proving compliance simple.
Report regularly, automatically
:
Schedule

:

select the date, time, and how you want reports sent
Data

:

select the amount of data the report will contain
Addresser

:

customize who the report comes from
Recipients

:

select which users will receive the report
Attachments

:

attach a CSV or TXT file that contains raw data
Widgets

:

add images of your widgets to reports
Email customization

:

edit email sends.
Simply report against these (and other)

sustainability frameworks + reporting standards

: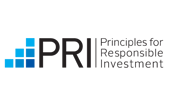 Our fully-featured, future-proof sustainability solutions
deliver

real business outcomes

.

Reduce man hours
+ complexity.
Our sustainability solutions
diminish the need for manual
inputs and creates simple,
repeatable ways of delivering
accurate metrics, forecasts, and
improved performance.

Limit reliance on
external contractors.
Our easy-to-use technology enables
you to create a personalised strategy,
monitor performance, and uncover
optimisations yourself. It also provides
suppliers with accurate metrics at the start
to deliver more efficient engagements.

Get cost saving insights +
new abilities to seize them.
Use explorable dashboards and reports
to drill into and compare performance
across sites, business areas, and assets; then use forecasts to model optimisations before leveraging automations to seize them, simply.

Turn reporting cycles
into real time metrics.
Annual reports with questionable data
cannot provide you with the insights
needed to improve your sustainability
metrics. Much like your ERP, CRM or
other business system; our
sustainability solutions can give you the
data you need to succeed in real-time.

Uncover how emission costs
impact production.
With a complete, accurate view of
ESG and SDG performance from
mine-to-market, our sustainability
solutions unite your sustainability
data with production measures,
enabling you to establish the true
production costs.

Future-proof, all-in-one
sustainability solution.
Crystallise and give transparency to your
journey to 2050 and beyond by
using a solutions that have the
capabilities you need today, but which
will keep up with your compliance,
strategic and operational needs as they
change along the way.

I4 Mining works with

best-in-class partners

to deliver our

sustainability solutions anywhere in the world.