Next generation Industry 4.0 technology

built especially to achieve the mining sector's current and future objectives.

Unite your data, add AI + IoT functionality & achieve strategic goals,

fast

.
I4 Mining is a specialist suite of digital mining solutions built on Dynamix, a real-time data, AI + IoT solution delivery platform created by world-leading Industry 4.0 specialists Rayven, dedicated to helping the mining sector achieve its key strategic imperatives whilst transforming both fast and affordably.

100% interoperable with all your existing and third-party technologies; our Dynamix platform unites your data to create a real-time single source of truth and adds easy-to-use Industry 4.0 functionality to provide you with real-time monitoring, predictive insights, as well as AI and automation abilities from mine-to-market - all in a single, seamless platform.
To tackle individual strategic goals, we offer a range of pre-built digital mining solutions for key business areas, (including ESG, Health & Safety, Predictive Maintenance and much more), that contain all the functionality and pre-programmed machine learning and adaptive real-time analytics that you need to make a positive impact on critical metrics in weeks.
What's more, we work with a global network of best-in-class partners, offer data science and optimization services, and provide 24/7 support to ensure that you achieve your goals and succeed with transformative next generation Industry 4.0 technology.

Fast-to-deploy, easy-to-use (codeless), and commercially viable no matter the size; we believe in deploying fast, proving efficacy and then scaling, always maintaining affordability and engagement to ensure your success. Our battle-tested approach and technology enables you to spend the time that usually goes into development hyper-customizing and optimizing your solution in the field - reducing risk and delivering a rapid ROI.
Discover what I4 Mining can do for you today: speak to us now. I4 Mining:

Our mission.
I4 Mining exists to help the mining sector achieve its strategic 'zero' goals by making Industry 4.0 technology simple to adopt, easy-to-use, and commercially viable at-scale.

We do this by providing completely interoperable, all-in-one AI + IoT digital mining solutions built on a Mine-to-Market data platform that's capable of uniting existing and novel technologies to create a single source of truth upon which machine learning, automations and custom business logic can be created - all in a single platform.
We de-risk and make digital transformation both affordable and attainable, offer a range of data science and optimization services, and work with best-in-class partners around the word to drive practical, real-world improvements and measurable outcomes.
Speak to us today to find out how we can help you.
I4 Mining:

Our vision

.
The industrial world and mining sector has come to realize that AI and IoT technologies are changing the way we work.
We are at an inflection point with the race to embrace transformative Industry 4.0 technologies already underway. Business' ability to quickly leverage the opportunities provided by what were only recently novel technologies is now the key to survival and success in the race to 2050.
The difficulty is that the speed of change and opaqueness of where and how to get started with AI + IoT, as well as businesses natural aversion to risk and sheer number of existing technologies, is making it hard to know where and how to begin.
I4 Mining uses a new breed of codeless, integrated data, AI + IoT platform called Dynamix to provide industry-ready digital mining solutions that offer modern SaaS interfaces and easy-to-use tools so that anyone can leverage the power of IoT, machine learning and predictive analytics, simply and in one place. Our technology enables businesses - no matter their size - to unite all of their existing systems and data, add Industry 4.0 functionality, and leverage the power of AI so that they can join the Industry 4.0 revolution and achieve measurable business results, fast.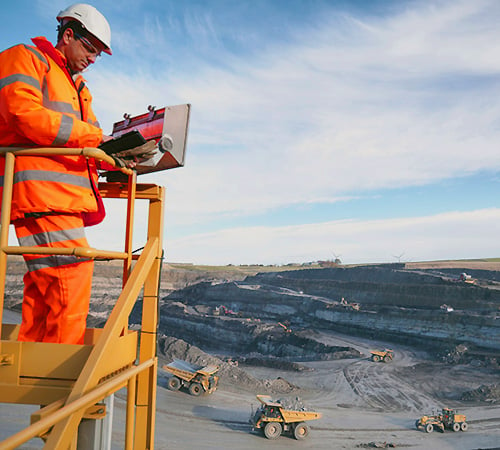 I

4 Mining

= Industry 4.0

transformation

.
I4 Mining delivers complete Industry 4.0 digital mining solutions by excelling at the 4 I's needed to deliver true digital transformation:
I

nteroperability
Our digital mining solutions can connect and securely exchange data with any machinery, system or technology in real-time. Endlessly flexible, they are capable of uniting all of your data to create a single source of truth.
I

nstruction
I4 Mining's digital mining solutions enable any user to create and scale enterprise-sized, Industry 4.0 technology that controls and automates asset functions via our codeless, drag-and-drop workflow builder.
I

nsight
Our digital mining solutions process your data, guarantee its accuracy and quality using machine learning, and then make it explorable anywhere, on any device so that you get the insights needed to make better real-time and strategic decisions.
I

ntelligence
I4 Mining's digital mining solutions include a codeless, easy-to-use machine learning engine: AI Dynamix. Select and verify your data, and then import, build and leverage any Python algorithm to analyze complex data sets in real-time and make (and execute) automated, AI-led decisions.
Discover more about I4 Mining, our solutions and the technology that they're built upon.
Solving

interoperability

+

legacy infrastructure

challenges at every stage of the Mining Cycle.

The linear production model of the mining sector, technologically, is anything but. Digital mining solutions that are only designed for a single stage or to operate a specific asset can't improve overall functions, won't deliver holistic transformation and means you'll always fall short of strategic goals.

I4 Mining's solutions are designed to be able to provide you with assistance across your full operations, integrating your full technology stack plus old and new plant, making them equally able to provide the overarching strategic insights that senior management teams need as well as offer guided adapted intelligence to those in the field, drill-down into specifics, and make better decisions based on real-time performance.
Industry 4.0 data, AI + IoT Platform
Connects with all technologies (Cloud or on-premise) and allows for all data - both historical and real-time, from any system, sensors or data lake - to flow into, be standardized for analysis, and then machine learning algorithms leveraged. Provides predictive insights and allows cross-functional decisions to be executed by human or AI: An organization's brain.
Physical
Technology (PT)
The internal asset/plant software and hardware (e.g. IoT sensors) used to connect physical assets, orient them allowing for real-time monitoring and control.
Information
Technology (IT)
Core central business systems, such as ERP, CRM, Business Support and Infrastructure Management. Usually managed by the CIO.

Mining Technical
Solutions (MT)
Solutions involved in individual element of business and mine operations, such as modelling, planning, health & safety and management platforms. Often managed by TSM.
Operational
Technology (OT)
Systems and technologies involved in the execution and control of mining environments, such as in the plant and beneficiation processes (e.g. SCADA).
Explore our Interactive Diagram

to discover how I4 Mining can help you from Mine-to-Market:
Introducing: Rayven
Rayven is a world-leading data, AI + IoT platform,

designed for the industrial world designed for deploying commercial and industrial IoT, machine learning and predictive analytics solutions.
Rayven's unique drag-and-drop toolkit allows us (and our partners) to create and deploy purpose-built Industry 4.0 solutions both rapidly and affordably, offering the unique ability to combine IoT data (real-time, physical-world data), system data, and machine learning models to provide a real-time consolidated view of what's happening - and what's about to happen - from Mine-to-Market.
Rayven digitally transform organization's, enabling them to benefit from real-time data and predictive insights – so that they can achieve meaningful business outcomes.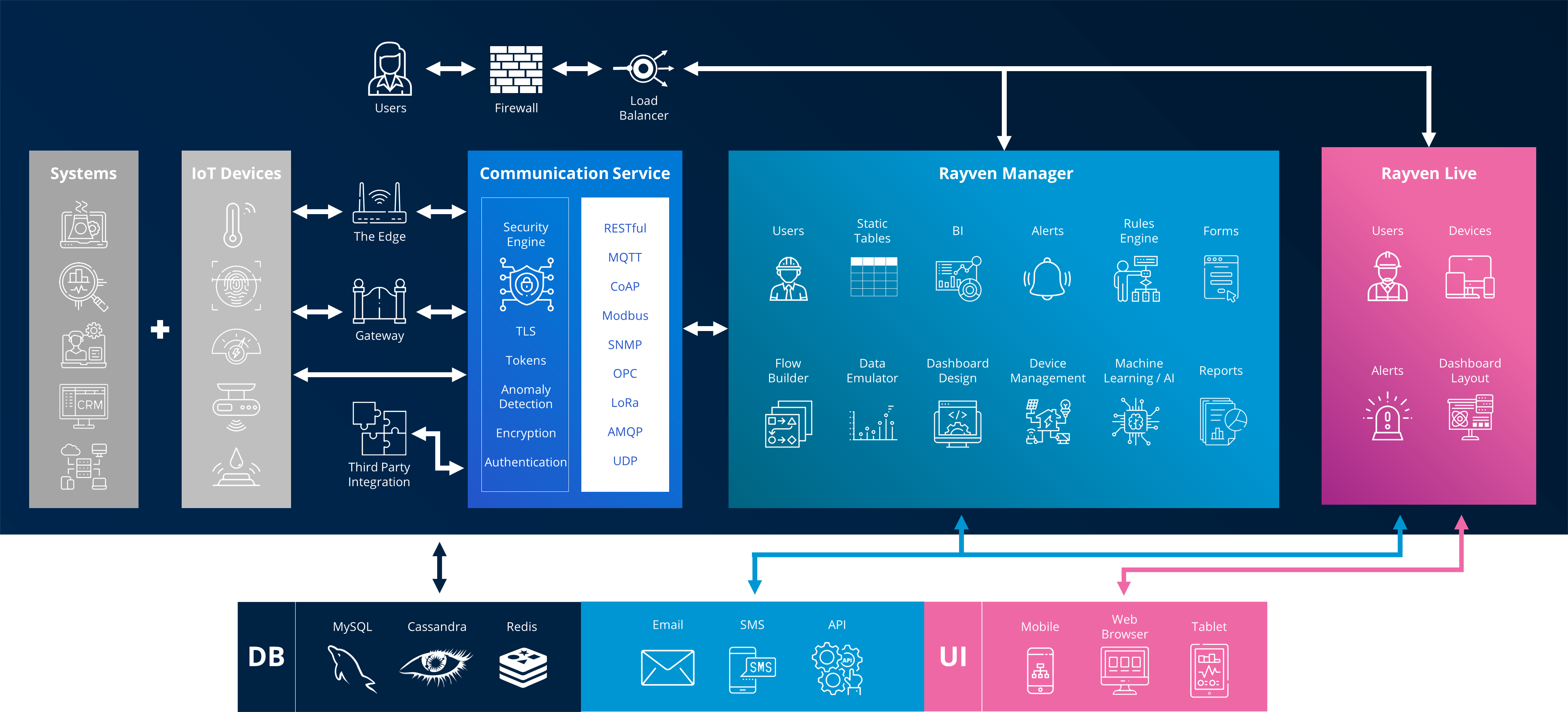 The Rayven story.
Discover more about Rayven, the platform and data science services, as well as the story behind the platform on the Rayven website.
Solving industry-wide problems with

best-in-class partners

.
No business can do everything and if they could they would not be the best at anything.
With so many moving parts involved in a complete deployment, from machinery and hardware through to networking and IT infrastructure, we collaborate with best-in-class technology partners across the world to help solve the manufacturing sector's problems together.

Through coupling our end-to-end data, AI + IoT platform and data science capabilities with leading hardware, telco and other technologies; we can offer complete Industry 4.0 transformation anywhere in the world and at a pace that suits your business.

Why our

customers choose

I4 Mining:

Built for the
Mining industry.
I4 Mining is a transformative technology built by people with hands-on industry experience - it's made to not just fit, but work brilliantly.

Easy-to-use,
IT-less design.
The I4 Mining platform features drag-and-drop configuration and simple to use interfaces; it's designed to be used by anyone and needs no coding.

I4 Mining's AI + IoT solutions can be configured and deployed in days. Start with 80% of the solution & hyper-customize the 20% that matters.

Enterprise-scalability, but affordable.
I4 Mining's solutions are designed to be affordable. They enable you to get started, quickly adjust, iterate and grow - proving ROI at every stage.

Ultra-secure
(at all points).
I4 Mining's solutions are built on the Rayven platform which's proprietary security architecture ensures data is secure at all points.

On top of 24/7 support, our technical and data science team are available to support you (or your customers), end-to-end.

Integrates with anything, to give a true source of truth.
Our solutions are limitlessly flexible, capable of integrating with systems, machinery, platforms - anything that you need it to (out-of-the-box).

Everything you need to become Industry 4.0.
Each of I4 Mining's solutions features Rayven's integrated AI + IoT platform, making it capable of delivering complete transformation.
Discover the technology that underpins I4 Mining:
Rayven's world-leading next generation Industry 4.0 software.