Supporting the mining sector's transition to a profitable zero harm, zero carbon, zero waste future.
The mining sector is entering a new era and I4 Mining exists to enable miners to achieve their zero harm, zero carbon, and zero waste objectives whilst enhancing yields and real-time decision-making.
Our 100% interoperable Dynamix data, AI + IoT platform is the basis for your own as well as our suite of ready-to-deploy digital mining solutions, all of which come preconfigured to solve business-critical challenges.
Our technology complements your existing infrastructure, it doesn't compete with it, increasing the return and time-to-value of your current technology investments whilst enabling you to achieve your strategic goals by adding easy-to-use real-time and predictive analytics abilities, and Industry 4.0 capabilities in a single, seamless platform.
Deployable in weeks, highly-flexible and commercially viable at-scale; all of our digital mining solutions are ready-to-go out-of-the-box, enabling you to achieve tangible strategic and operational results and help your organization to achieve Industry 4.0 status, fast.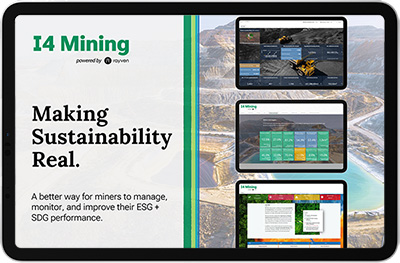 Want to know about industrial AI + IoT more broadly?
If you'd like to find out more about the technology that underpins all of our digital mining solutions, other industrial uses of AI + IoT, or are eager to get into the detail of precisely what AI and IoT technology are then visit the Rayven blog.