ESG Live enables you to accurately monitor, manage + improve your sustainability performance in real-time

for the very first time

.
ESG Live is a ready-to-use solution that enables miners to accurately track, trace, manage and improve their sustainability performance in real-time, simply.
From creating strategies and assessing risks, delivering accurate real-time ESG metrics and simple sustainability framework reporting, through to delivering all-new Industry 4.0 capabilities that deliver predictive insights and operational enhancements; ESG Live gives you the complete picture and the technology needed to succeed with sustainability.
Create strategies, identify risks, incorporate targets + measure performance
.
Capture, collect + trace all your HSEC data from anywhere to form real-time dashboards
.
Get easy, 1-click reporting against key sustainability frameworks + standards
.
Model scenarios, forecast outcomes + explore decarbonisation pathways
.
Use ESG Live's different

modules

to monitor, trace, manage, and improve your ESG performance.
The ESG Live solution is designed to support you along your full digital sustainability journey, with configurations that are guaranteed to fit you and your business' needs.
Use the modules and functionality that you need right now, and then broaden your usage later to deliver transformational improvement across your organisation.
ESG Live enables you to ingest, integrate, and interpret all your sustainability data from anywhere to give you the full, traceable picture:
All the

help

you need to get started + grow, included

*

.

Satarla will help you get started with formulating your sustainability strategy, identifying data points and risks, as well as creating the processes needed to effectively utilise your version of the ESG Live solution to report against key sustainability frameworks, including TCFD reporting, so that you can report and improve time after time.
I4 Mining will support you to integrate data sources, customise your solution, and train your teams on how to use ESG Live.
Together, we can give you the understanding, skills and technology needed to monitor, manage and achieve your sustainability goals.
Strategy Build.
Get support to create your sustainability strategy and plot future objectives.
Risk Mapping.
Understand where your business' sustainability risk are and identify data points.
Deployment.
Get assistance with deploying ESG Live onsite and with integrations.
Data Science.
We will assist you with ingesting, cleaning and uniting your data.
Data Integrity.
Help to set up logic that will ensure that the data entering your solution is accurate.
Scaling.
We can provide you with the guidance required to scale your solution to do more.
Training.
We will conduct training with your team and users to rapidly upskill them.
24/7 Support.
Should anything go wrong, our team is there to assist you 365 days a year.
* Each deployment comes with a set number of service hours included as-standard designed to get you up and running. Should additional time be required due to complexity or project scope, then this will come at extra cost and will be outlined in any proposal prior to purchase.
A sustainability solution that's

guaranteed to fit

your needs.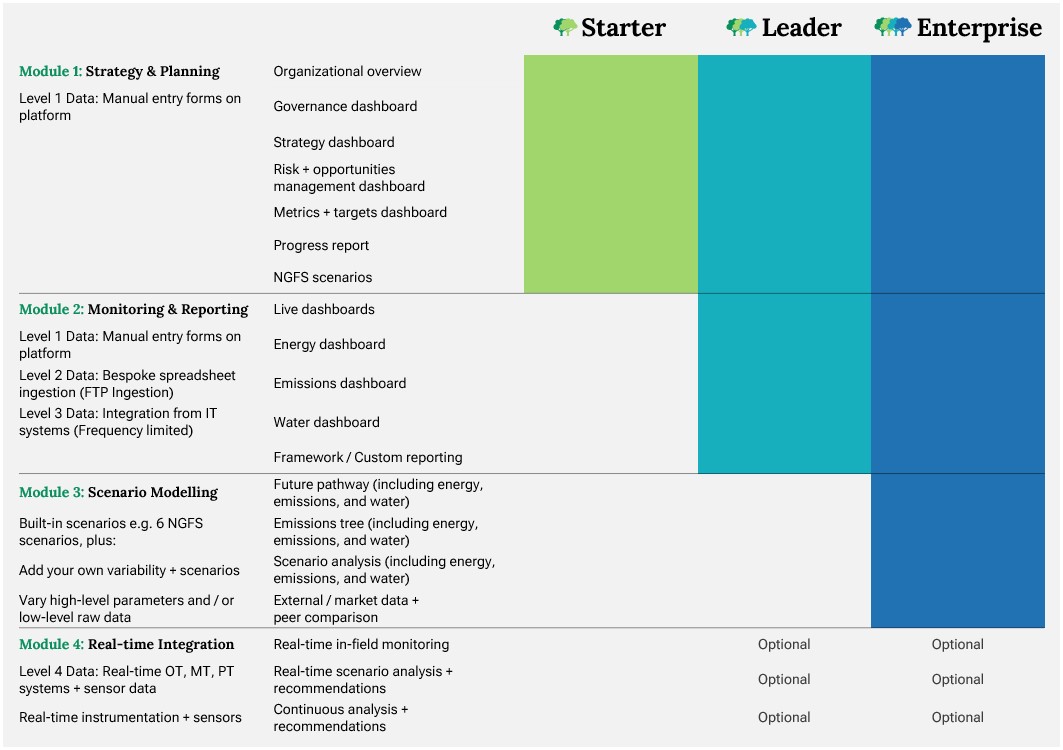 Want to discover more about ESG Live + what it can do for you?

Book a demo today

.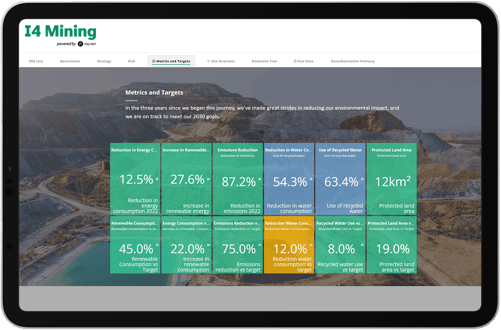 Start your

digital sustainability journey

then scale.
Adopting ESG Live and our other sustainability solutions has distinct stages that map to your immediate and long-term needs depending on your current objectives and which needs to, incrementally, integrate with your wider business and its operations.
I4 Mining's solutions provide a guided pathway to formulate a strategy, measure and disclose performance, and achieve short and long-term ESG + SDG objectives.

Discover more about I4 Mining, our solutions and the technology that they're built upon.
Get real-time alerts + reports, with

complete accuracy

, in one-click:
The reporting burden is very real for miners.
With local, regional, national and international reporting and compliance commitments around environmental, safety and many other areas, it can be all consuming for executives and sector-heads.
We make it possible to create live dashboards and complete performance reports of your SDGs, TCFDs, sustainability frameworks - or anything else - at the click of the button.
Our sustainability solutions decimate the reporting burden and makes proving compliance simple.
Report regularly, automatically
:
Schedule

:

select the date, time, and how you want reports sent
Data

:

select the amount of data the report will contain
Addresser

:

customize who the report comes from
Recipients

:

select which users will receive the report
Attachments

:

attach a CSV or TXT file that contains raw data
Widgets

:

add images of your widgets to reports
Email customization

:

edit email sends.
Simply report against these (and other)

sustainability frameworks + reporting standards

: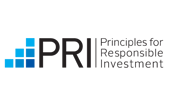 Need help building your own module or scaling your solution?




We can help you to achieve your business objectives rapidly.
Rayven Accelerated Delivery Model (RADM)



Jump start your scoping + design phases by using our Rayven Accelerated Delivery Model (RADM) to get you started, fast. Not a big consulting project that ends with a report, the RADM is about working with our team so that you can quickly identify potential, discover what needs to be done, and establish the budget required - all in just 4 weeks.
Our Service Packs include a bundled number of hours at a discount that can be used to support your teams with achieving your objectives spread across the calendar. They can be used for any of our services, last for 12 months, and can be configured to meet your individual needs.
Our fully-featured, future-proof sustainability solutions
deliver

real business outcomes

.

Reduce man hours
+ complexity.
Our sustainability solutions
diminish the need for manual
inputs and creates simple,
repeatable ways of delivering
accurate metrics, forecasts, and
improved performance.

Limit reliance on
external contractors.
Our easy-to-use technology enables
you to create a personalised strategy,
monitor performance, and uncover
optimisations yourself. It also provides
suppliers with accurate metrics at the start
to deliver more efficient engagements.

Get cost saving insights +
new abilities to seize them.
Use explorable dashboards and reports
to drill into and compare performance
across sites, business areas, and assets; then use forecasts to model optimisations before leveraging automations to seize them, simply.

Turn reporting cycles
into real time metrics.
Annual reports with questionable data
cannot provide you with the insights
needed to improve your sustainability
metrics. Much like your ERP, CRM or
other business system; our
sustainability solutions can give you the
data you need to succeed in real-time.

Uncover how emission costs
impact production.
With a complete, accurate view of
ESG and SDG performance from
mine-to-market, our sustainability
solutions unite your sustainability
data with production measures,
enabling you to establish the true
production costs.

Future-proof, all-in-one
sustainability solution.
Crystallise and give transparency to your
journey to 2050 and beyond by
using a solutions that have the
capabilities you need today, but which
will keep up with your compliance,
strategic and operational needs as they
change along the way.
I4 Mining works with

best-in-class partners

to deliver our

sustainability solutions anywhere in the world.
























Discover the technology that underpins I4 Mining: Rayven's Industry 4.0 Sustainability Performance Platform.