Collect, ingest + integrate all

your sustainability data

, simply.
Create an accurate, single source of truth for all your ESG + SDG data.
Extreme transparency makes achieving sustainability objectives easier.
The Sustainability Performance Platform (SPP) makes it possible to collect and upload all your ESG + SDG data, and

integrate with anything to get the

complete picture

.
To make sustainability reports accurate and take it to the next level with real-time monitoring and optimisation, you need readily accessible, readable, and united ESG + SDG data.
Our Sustainability Performance Platform (SPP) and our solutions built on on it features specialist interfaces to collect and upload miners' ESG and SDG data, and can integrate with any data source, cloud provider, system, data lakes, ERP, production systems, real-time IoT sensors, or anything else; making it the vehicle to not just consolidate, but create an accurate single source of truth.
Upload, collect, ingest, integrate, connect, and more:
Easy data ingestion
Utilise custom forms, interfaces, and spreadsheet upload functionality.
Ready-to-go connectors
Use our extensive range of ready-to-go connectors to get the complete picture.
Any data
format
The SPP supports all data structures and formats.
Secure data
everywhere
The SPP has enterprise security baked-in at all points.
Real-time data
storage
Automatically store and back-up your real-time sustainability data.
Automatic back-up + DR
Get reliable anytime, anywhere access to your data, with easy disaster recovery.
Collect

all your ESG + SDG data

types to complete your 2050 journey.

Easily integrate +
manage

anything

.
Our Sustainability Performance Platform makes it simple to connect to a diverse array of devices - from PLCs and SCADA, to energy meters and vibration sensors - so that you can remotely manage and monitor them across all of your facilities and sites.
Deployment + scalability options
that

fit your needs

.
With ready-to-go-connectors to all major cloud providers, ERP, data lakes, IoT sensors and other systems; our Sustainability Performance Platform and solutions easily slot into your technology infrastructure.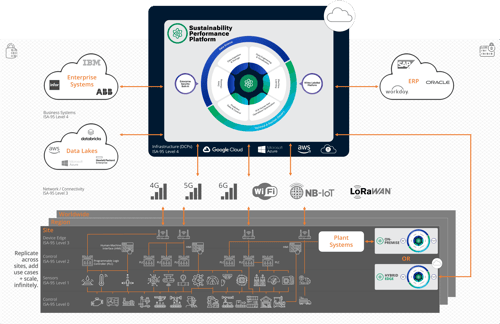 The Sustainability Performance Platform can ingest, integrate, and interpret any data from anywhere to give you the full picture:
Ready-to-go connectors
include:






























Need help building your own module or scaling your solution?




We can help you to achieve your business objectives rapidly.
Rayven Accelerated Delivery Model (RADM)



Jump start your scoping + design phases by using our Rayven Accelerated Delivery Model (RADM) to get you started, fast. Not a big consulting project that ends with a report, the RADM is about working with our team so that you can quickly identify potential, discover what needs to be done, and establish the budget required - all in just 4 weeks.
Our Service Packs include a bundled number of hours at a discount that can be used to support your teams with achieving your objectives spread across the calendar. They can be used for any of our services, last for 12 months, and can be configured to meet your individual needs.
Discover more about I4 Mining, our solutions, and the technology that they're built upon.
Our fully-featured, future-proof platform supports sustainability solutions that deliver

real business outcomes

.

Reduce man hours
+ complexity.
Our sustainability solutions
diminish the need for manual
inputs and creates simple,
repeatable ways of delivering
accurate metrics, forecasts, and
improved performance.

Limit reliance on
external contractors.
Our easy-to-use technology enables
you to create a personalised strategy,
monitor performance, and uncover
optimisations yourself. It also provides
suppliers with accurate metrics at the start
to deliver more efficient engagements.

Get cost saving insights +
new abilities to seize them.
Use explorable dashboards and reports
to drill into and compare performance
across sites, business areas, and assets; then use forecasts to model optimisations before leveraging automations to seize them, simply.

Turn reporting cycles
into real time metrics.
Annual reports with questionable data
cannot provide you with the insights
needed to improve your sustainability
metrics. Much like your ERP, CRM or
other business system; our
sustainability solutions can give you the
data you need to succeed in real-time.

Uncover how emission costs
impact production.
With a complete, accurate view of
ESG and SDG performance from
mine-to-market, our sustainability
solutions unite your sustainability
data with production measures,
enabling you to establish the true
production costs.

Future-proof, all-in-one
sustainability solution.
Crystallise and give transparency to your
journey to 2050 and beyond by
using a solutions that have the
capabilities you need today, but which
will keep up with your compliance,
strategic and operational needs as they
change along the way.
I4 Mining works with

best-in-class partners

to deliver our

sustainability solutions anywhere in the world.
























Click to explore our Sustainability Performance Platform's
technical features:
Discover the technology that powers our solutions: Rayven's Industry 4.0 Sustainability Performance Platform.