Edge Compute:

Do everything you need at the Edge.
Our Sustainability Performance Platform supports Edge processing to deliver unparalleled performance.
Making the difference when seconds matter.
Advanced users:

Edge-orientated:

our Sustainability Performance Platform and solutions fit your operations, infrastructure + needs - not the other way around.
Some of our sustainability solutions could benefit from having computing power closer to where your devices, data sources and people are.
Our Sustainability Performance Platform (SPP) enable you to deploy our solutions at the Edge on lightweight hardware all over the world, facilitating rapid on-site data processing, making it ideal for workloads requiring long-term stability, security and scenarios where rapid decision-making by human + AI is critical.
Edge computing abilities enable you to react faster to what's happening in the field so that you can always make the right decision.
The Sustainability Performance Platform gives you unrivalled power at the Edge
:
Scalable at-will
Our SPP enables you to connect an unlimited number of Edge devices + systems to a single cloud, simply.
Control from anywhere
Our 'lite' Edge Compute interface enables you to access and control your Edge configuration anywhere.
Enterprise security
Our solutions have ready-to-go enterprise security and standards built-in.
Fits your stack
Our SPP + solutions deploy into your existing infrastructure and can even be the vehicle to adopt a Hybrid Cloud.
Low-Code solution
Make changes to connected devices using drag-and-drop and deploying alterations.
Agility + improvement
Apply machine learning, customise usage and implement AI at the Edge using only drag-and-drop: discover more.
Hybrid Edge
Option 1:
Edge optimised.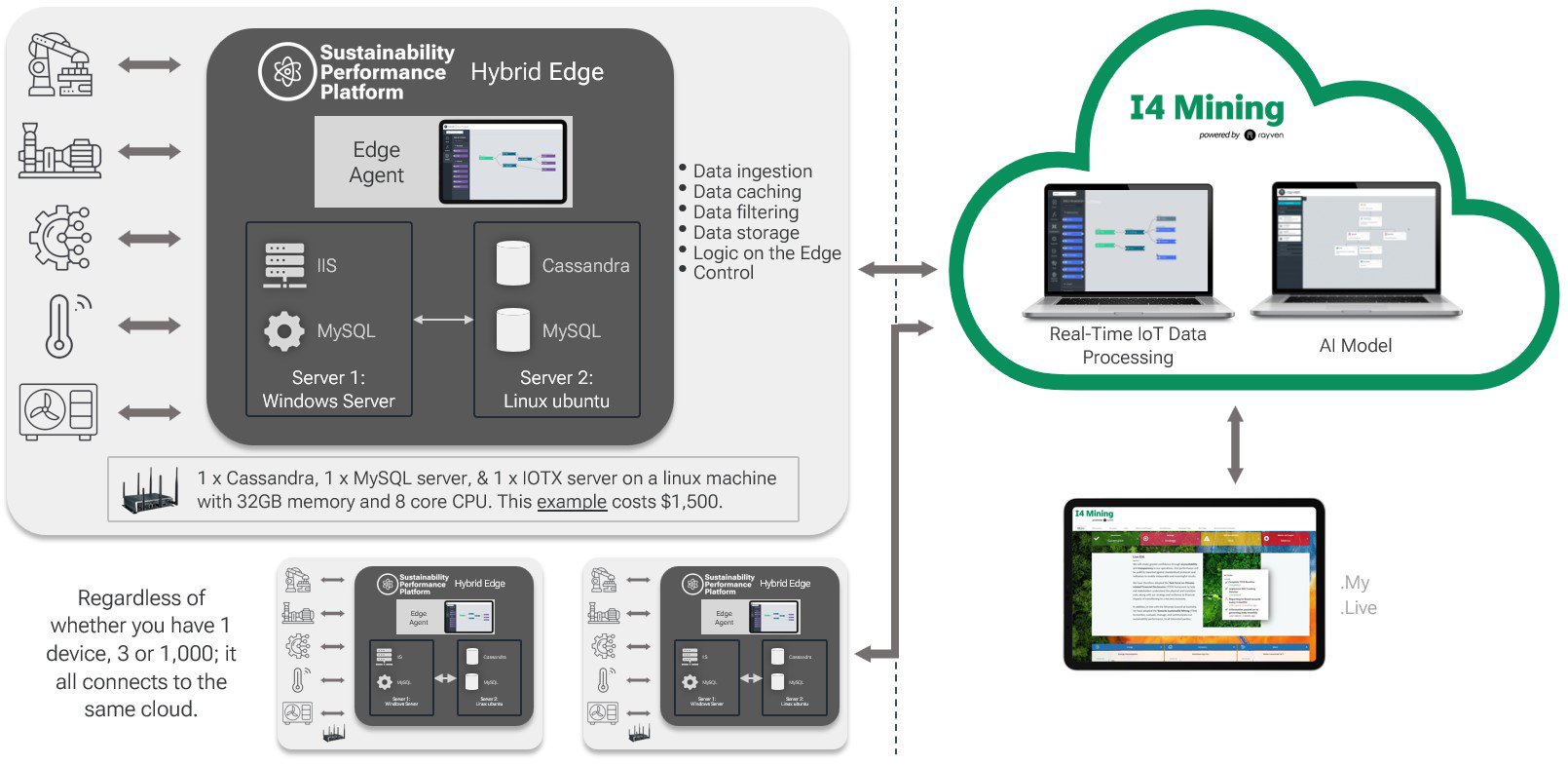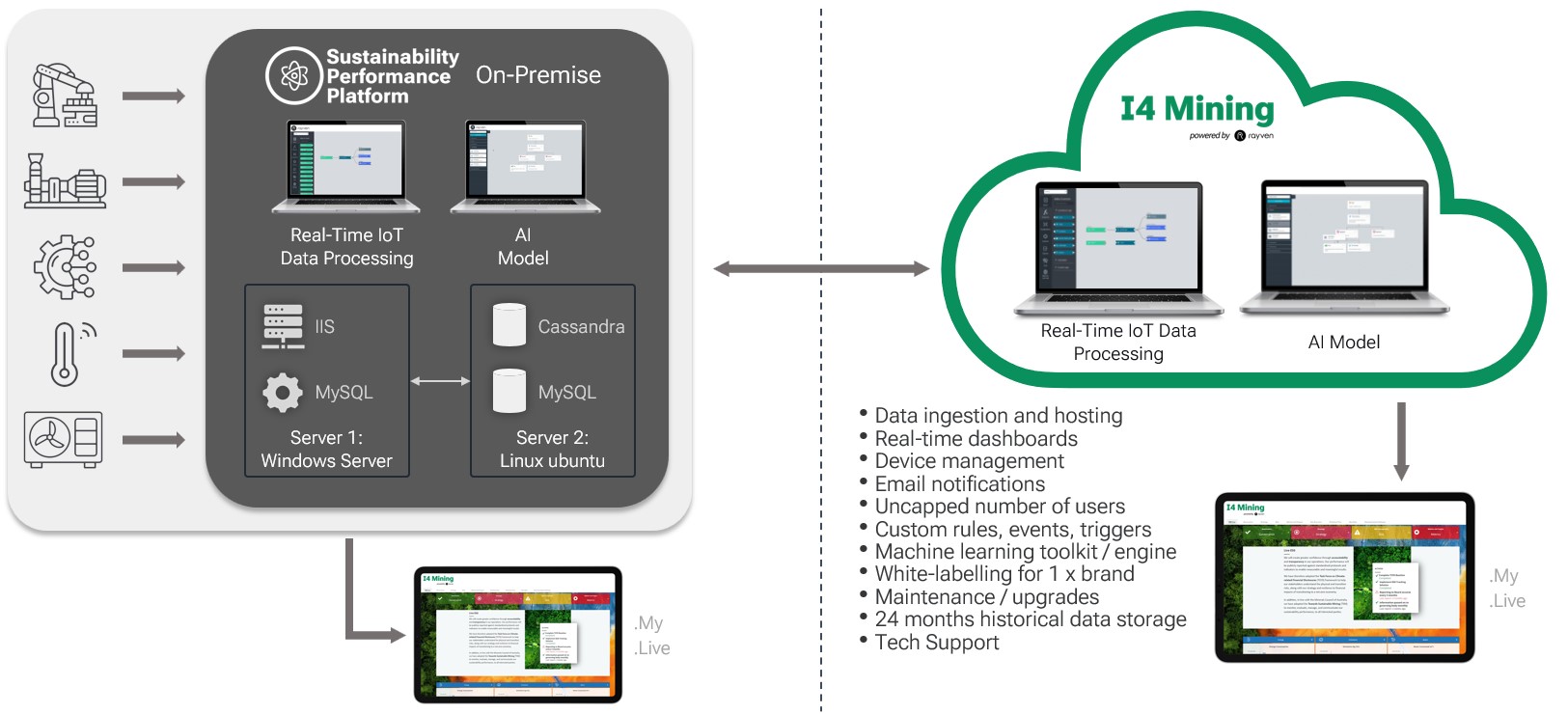 Hybrid Edge
Option 2:
On-Premise with optional cloud synchronisation.
Beyond simple
configuration, management + scaling - even at the Edge.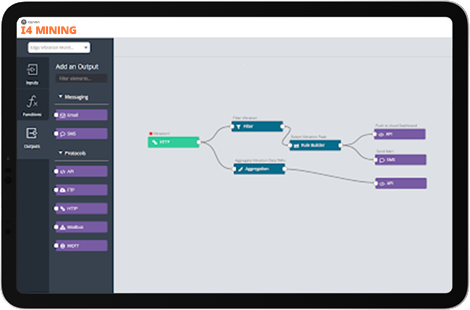 Our Sustainability Performance Platform and solutions make managing + scaling at the Edge beyond simple.
Using a 'lite-version' of our Workflow Builder, Edge Compute, you can access and control your Edge device configuration, update them, and manage them from anywhere at anytime - even in the field.
Speed and Latency: The ability to make decisions at the Edge can be crucial. For example, if a vibration sensor is attached to a machine, with the machine programmed to shut down if vibrations spike, a one-second difference could be critical. With Edge Compute, this is achieved by acting on sensor values and making the shutdown decision locally.
Reduce data transfer costs: Your devices and sensors can generate hundreds of data points per second, and it's likely you only care about long-term averages and/or anomalies. By filtering sensor values at a local level, you can reduce data noise within your solution and cut the number of payloads generated, saving bandwidth and data costs.
Security: Edge computing eliminates the need to move data from end-points to the cloud and back, reducing the amount of communication between the devices and the vulnerability of the application.
Data integrity: If your devices are deployed in places with intermittent internet service, you can use Edge Compute to accumulate data from the device before then, with connectivity, sending it all to the cloud in batches.
Need help building your own module or scaling your solution?




We can help you to achieve your business objectives rapidly.
Rayven Accelerated Delivery Model (RADM)



Jump start your scoping + design phases by using our Rayven Accelerated Delivery Model (RADM) to get you started, fast. Not a big consulting project that ends with a report, the RADM is about working with our team so that you can quickly identify potential, discover what needs to be done, and establish the budget required - all in just 4 weeks.
Our Service Packs include a bundled number of hours at a discount that can be used to support your teams with achieving your objectives spread across the calendar. They can be used for any of our services, last for 12 months, and can be configured to meet your individual needs.
Discover more about I4 Mining, our solutions and the technology that they're built upon.

Our fully-featured, future-proof platform supports sustainability solutions that deliver

real business outcomes

.

Reduce man hours
+ complexity.
Our sustainability solutions
diminish the need for manual
inputs and creates simple,
repeatable ways of delivering
accurate metrics, forecasts, and
improved performance.

Limit reliance on
external contractors.
Our easy-to-use technology enables
you to create a personalised strategy,
monitor performance, and uncover
optimisations yourself. It also provides
suppliers with accurate metrics at the start
to deliver more efficient engagements.

Get cost saving insights +
new abilities to seize them.
Use explorable dashboards and reports
to drill into and compare performance
across sites, business areas, and assets; then use forecasts to model optimisations before leveraging automations to seize them, simply.

Turn reporting cycles
into real time metrics.
Annual reports with questionable data
cannot provide you with the insights
needed to improve your sustainability
metrics. Much like your ERP, CRM or
other business system; our
sustainability solutions can give you the
data you need to succeed in real-time.

Uncover how emission costs
impact production.
With a complete, accurate view of
ESG and SDG performance from
mine-to-market, our sustainability
solutions unite your sustainability
data with production measures,
enabling you to establish the true
production costs.

Future-proof, all-in-one
sustainability solution.
Crystallise and give transparency to your
journey to 2050 and beyond by
using a solutions that have the
capabilities you need today, but which
will keep up with your compliance,
strategic and operational needs as they
change along the way.
I4 Mining works with

best-in-class partners

to deliver our

sustainability solutions anywhere in the world.
























Click to explore our Sustainability Performance Platform's
technical features:
Discover the technology that powers our solutions: Rayven's Industry 4.0 Sustainability Performance Platform.