Simple

Device Management, everywhere.
Onboard, organise, monitor, and manage devices at scale, securely.
Control everything, everywhere using drag-and-drop.
Advanced users:

Monitor + manage all of your devices from anywhere,

at-scale

within our solutions.
Our Sustainability Performance Platforms and solutions built on it have easy device management functionality, allowing you to connect devices, existing systems, and third party data and technology provider - even at the Edge - enabling you to adopt real-time analytics and scale rapidly.
With an added security layer that's monitoring the data flowing from the devices to ensure safety and data integrity at all times, our Sustainability Performance Platform makes device management not just easy, but ultra-secure, too.
Our Sustainability Performance Platform's device management features
:
Fast device onboarding
Bulk upload thousands of devices and their attributes securely in a click of a button.
Simple device organisation
Organise your devices into groups and cascade them by hierarchy to make it easy to track, operate, and manage.
Locate connected devices
Search and find any device or group so you can take action at individual asset and asset class levels.
Easy device
updates
Remotely update the software running your devices after they have been deployed in the field, simply.
IoT device management
Register devices and inject metadata into raw device data, create groups for bulk management, and send commands.
Built-in firmware updates
Fix vulnerabilities, update configuration settings, as well as add new functionality via simple web interfaces.
Our SPP + solution's Device Management features enable you to

manage anything

.
Connect a diverse array of devices - from PLCs and SCADA, to energy meters and vibration sensors - so that you can remotely manage and monitor them across all of your facilities and sites.
You can then monitor usage and performance metrics for all of your devices, whilst our inbuilt IoT security layer monitors them an can detect unusual behaviour, taking action before minor issues become problems.
Scale + manage effortlessly

, whether it's 1 or 1,000,000 devices.
Bulk upload millions of devices, group them, and create hierarchy structures. From there, you can understand in real-time the state of any device or group of devices, set-up notifications, and perform actions across individual devices or groups.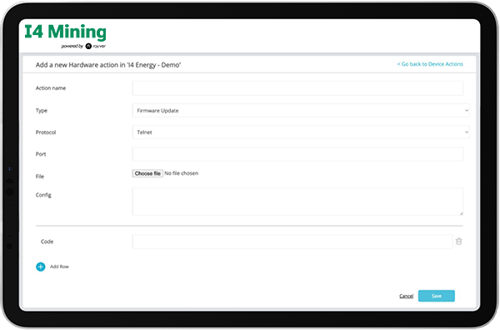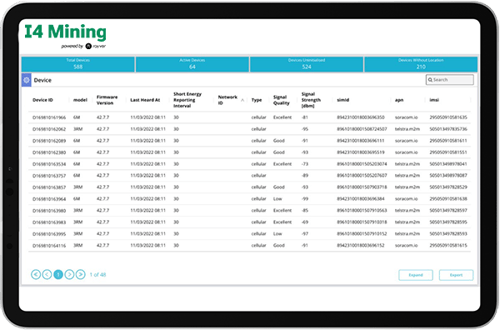 Device

health

management.
Create customised health management interfaces displaying connectivity, battery-status, location and much more. You monitor devices by grouping, model or drill-down and look at individual assets from a single interface, as well as making it easy to create alerts and send notifications and make you aware of issues with equipment.
Easy device administration +

updates

.
Push Firmware updates and change settings, including configuration changes, to individual devices or entire fleets remotely from anywhere at anytime.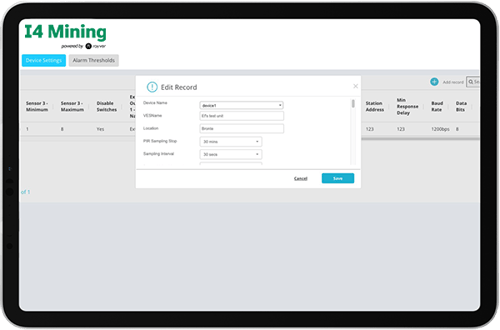 Need help building your own module or scaling your solution?




We can help you to achieve your business objectives rapidly.
Rayven Accelerated Delivery Model (RADM)



Jump start your scoping + design phases by using our Rayven Accelerated Delivery Model (RADM) to get you started, fast. Not a big consulting project that ends with a report, the RADM is about working with our team so that you can quickly identify potential, discover what needs to be done, and establish the budget required - all in just 4 weeks.
Our Service Packs include a bundled number of hours at a discount that can be used to support your teams with achieving your objectives spread across the calendar. They can be used for any of our services, last for 12 months, and can be configured to meet your individual needs.
Discover more about I4 Mining, our solutions and the technology that they're built upon.
Our fully-featured, future-proof platform supports sustainability solutions that deliver

real business outcomes

.

Reduce man hours
+ complexity.
Our sustainability solutions
diminish the need for manual
inputs and creates simple,
repeatable ways of delivering
accurate metrics, forecasts, and
improved performance.

Limit reliance on
external contractors.
Our easy-to-use technology enables
you to create a personalised strategy,
monitor performance, and uncover
optimisations yourself. It also provides
suppliers with accurate metrics at the start
to deliver more efficient engagements.

Get cost saving insights +
new abilities to seize them.
Use explorable dashboards and reports
to drill into and compare performance
across sites, business areas, and assets; then use forecasts to model optimisations before leveraging automations to seize them, simply.

Turn reporting cycles
into real time metrics.
Annual reports with questionable data
cannot provide you with the insights
needed to improve your sustainability
metrics. Much like your ERP, CRM or
other business system; our
sustainability solutions can give you the
data you need to succeed in real-time.

Uncover how emission costs
impact production.
With a complete, accurate view of
ESG and SDG performance from
mine-to-market, our sustainability
solutions unite your sustainability
data with production measures,
enabling you to establish the true
production costs.

Future-proof, all-in-one
sustainability solution.
Crystallise and give transparency to your
journey to 2050 and beyond by
using a solutions that have the
capabilities you need today, but which
will keep up with your compliance,
strategic and operational needs as they
change along the way.
I4 Mining works with

best-in-class partners

to deliver our

sustainability solutions anywhere in the world.
























Click to explore our Sustainability Performance Platform's
technical features:
Discover the technology that powers our solutions: Rayven's Industry 4.0 Sustainability Performance Platform.