EYEMine is a load + haul solution that

delivers real-world sustainability and production benefits

, plus enables you to execute insight-led decisions in real-time.
EYEMine is a sustainability solution that allows you to review key measures, assess machine and operator performance in real-time, improving key metrics such as load volumes, loading efficiencies, material density, carry-back, CO2 outputs, and much more.
The solution delivers real-time insights and metrics, supporting operators and team leaders to improve fleet optimisation, increase production efficiency, and deliver tangible, measurable production and ESG improvements.
Use EYEMine to monitor &

improve load + haul and ESG performance

- all at once, from anywhere.
Leveraging real-time data from load volume scanners and other technologies, EYEMine gives you a 24/7 automated, no touch-point solution that displays all of your critical load + haul and associated ESG metrics in a single dashboard.
No assumptions, fictitious calculations, or estimations - get accurate insights and know how to improve, simply.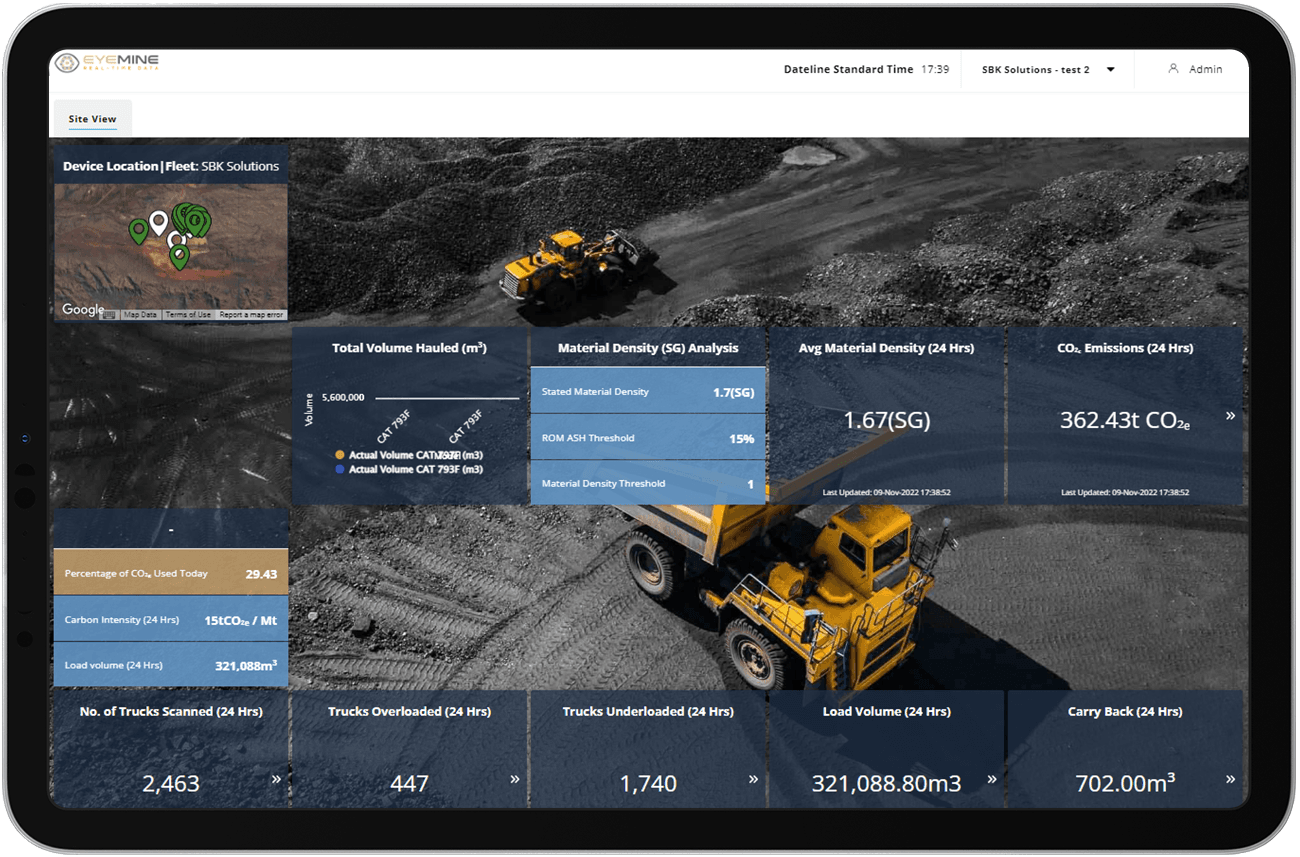 The benefits that EYEMine

delivers

:

Reduce Scope 1 Emissions.
Haul fleets generate 25-30% of scope 1 emissions onsite, with diesel usage by mobile plant and crushers adding another 40-50%. EYEMine enables you to optimise processes; reducing fuel usage and emissions.
Add Haul Fleet Efficiencies.
EYEMine delivers insights that enable you to achieve a lower cost-per-tonne of material hauled, improve productivity, and increase profits. Use data to assist with asset selection, maintenance, and loading practices.
Get accurate material density.
Preparation Plants are the second biggest contributor to Scope 1 emissions. EYEMine can measure ROM Ash material density + alert you when ASH content is above thresholds.
Identify carry-back.
Carry-back can seriously impact mining yields and reduce productivity. EYEMine can identify carry-back and alert operators so actions can be taken to achieve full optimisation.
Stop off-centre loading.
Incorrect loading practices give rise to off-centreloads, leading to extra stress on components. With instant access to data on fleet loading, preventative measures can be taken to prevent it from occurring.
Prevent under + overloading.
EYEMine tracks and gathers historical data to give real-time insights that prevent incorrect loading, thereby reducing tyre damage and component wear, as well as maintenance costs.
Want to discover more about EYEMine + what it can do for you?
Book a demo today
.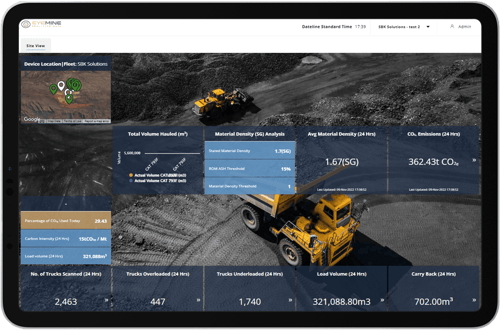 Start your

digital sustainability journey

then scale.
Adopting EYEMine and our other sustainability solutions has distinct stages that map to your immediate and long-term needs depending on your current objectives and which needs to, incrementally, integrate with your wider business and its operations.
I4 Mining's solutions provide a guided pathway to formulate a strategy, measure and disclose performance, and achieve short and long-term ESG + SDG objectives.

Discover more about I4 Mining, our solutions and the technology that they're built upon.
Need help building your own module or scaling your solution?




We can help you to achieve your business objectives rapidly.
Rayven Accelerated Delivery Model (RADM)



Jump start your scoping + design phases by using our Rayven Accelerated Delivery Model (RADM) to get you started, fast. Not a big consulting project that ends with a report, the RADM is about working with our team so that you can quickly identify potential, discover what needs to be done, and establish the budget required - all in just 4 weeks.
Our Service Packs include a bundled number of hours at a discount that can be used to support your teams with achieving your objectives spread across the calendar. They can be used for any of our services, last for 12 months, and can be configured to meet your individual needs.
Our fully-featured, future-proof sustainability solutions
deliver

real business outcomes

.

Reduce man hours
+ complexity.
Our sustainability solutions
diminish the need for manual
inputs and creates simple,
repeatable ways of delivering
accurate metrics, forecasts, and
improved performance.

Limit reliance on
external contractors.
Our easy-to-use technology enables
you to create a personalised strategy,
monitor performance, and uncover
optimisations yourself. It also provides
suppliers with accurate metrics at the start
to deliver more efficient engagements.

Get cost saving insights +
new abilities to seize them.
Use explorable dashboards and reports
to drill into and compare performance
across sites, business areas, and assets; then use forecasts to model optimisations before leveraging automations to seize them, simply.

Turn reporting cycles
into real time metrics.
Annual reports with questionable data
cannot provide you with the insights
needed to improve your sustainability
metrics. Much like your ERP, CRM or
other business system; our
sustainability solutions can give you the
data you need to succeed in real-time.

Uncover how emission costs
impact production.
With a complete, accurate view of
ESG and SDG performance from
mine-to-market, our sustainability
solutions unite your sustainability
data with production measures,
enabling you to establish the true
production costs.

Future-proof, all-in-one
sustainability solution.
Crystallise and give transparency to your
journey to 2050 and beyond by
using a solutions that have the
capabilities you need today, but which
will keep up with your compliance,
strategic and operational needs as they
change along the way.
I4 Mining works with

best-in-class partners

to deliver our

sustainability solutions anywhere in the world.
























Discover the technology that underpins I4 Mining: Rayven's Industry 4.0 Sustainability Performance Platform.