Industry 4.0 (and zero goal) attainment: the technology blueprint
Blog

Industry 4.0 status is not achieved through a single solution or an integrated AI + IoT platform - but it definitely needs the latter.
The fourth industrial revolution - where businesses build upon their use of computing power and automation with the adoption of intelligent, autonomous systems that can leverage complex data sets and machine learning to deliver AI-driven enhancements in real-time - is central to miners achieving more with their plant.

There is already a vast array of 'Industry 4.0 plant solutions' available. From new forms of IT and Mining Technical solutions (MT), to Physical Technology (PT) and Operational Technology (OT); all boast outcomes that deliver on efficiency, safety, productivity and other plant-orientated goals.

What these individual solutions and technologies cannot do, however, is deliver holistic change or fuel the attainment of strategic zero harm, zero carbon and zero waste goals alone - and relying on them to do so is akin to leaving change at the hands of OEMs.

What these individual solutions do deliver is the additional functionality that's needed to either deliver on Industry 4.0 transformation or which can deliver on changes that have been identified by it. For example, systems that measure whether a seatbelt is plugged in or that allows for a drill rig to be run remotely is great in improving safety, but is not going to analyze whether the person at the controls is doing a good job or whether that particular piece of plant is performing as well as others in its class.

In order to run mining operations optimally, it's necessary to analyze 'Big Data' sets that look at all the variables that go into how it operates: temperature, vibration, noise, driver operational score, energy usage, pressure etc.; compare it with other assets in the fleet and sites; analyze maintenance schedules; weather conditions; planned future usage; and much more to uncover commonalities, trends and optimizations.

To do this, miners need to adopt a new piece of technology that can sit in the middle of every Industry 4.0 business and/or operation to analyze and orchestrate: an integrated AI + IoT platform.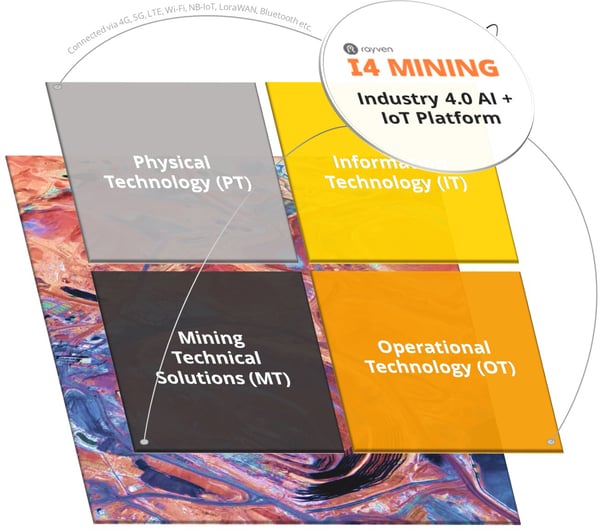 An integrated AI + IoT Industry 4.0 platform sits in the middle of your technology and operations. It integrates with all your other systems, platforms and data stores, offering extreme interoperability and creating a single source of truth through which you can analyze data, apply machine learning, seize optimizations either manually or via AI-led control, and much more.
An integrated AI + IoT platform is capable of a supremely high-level of interoperability, connecting to every possible system and data source, before then analyzing all of the data that's coming from them (plus other systems or data sources inside and outside your organization) to identify trends, relationships and insights hidden in the 'Big Data' that you're accumulating in real-time. The platform can also be programmed to take direct action based on pre-programmed business logic or via AI-led intervention to prevent harm or identify where and how a business (or individual employee) needs to improve, optimizing on an ongoing basis based on changing variables and performance.

The AI + IoT platform is critical because it's the one place in an organization where all of its data (both historical and real-time, from any system, sensor or data lake) can flow and be standardized for analysis, where machine learning algorithms can be leveraged, and where cross-functional decisions - made by human or AI - can be orchestrated and executed: it's an Industry 4.0 organization's brain.

This makes the path to achieving Industry 4.0 status one that involves a suite of use case-specific solutions that can be deployed and then integrated with one another piece-by-piece, function-by-function. It's not about a single technology in isolation, but the amalgamation of multiple solutions which are integrated together (along with legacy technology) via an integrated AI + IoT platform to share data, improve how it's analyzed (data science), and by improving how people interact with it and a mine's operations.
I4 Mining is a suite of digital mining solutions built on our world-leading data consolidation and AI + IoT platform, Dynamix, designed to help miners quickly adopt Industry 4.0 technology and succeed with key strategic goals. Featuring pre-built sector-based logic, AI and enterprise-level functionality; our solutions can be deployed and performing in the field in weeks, enabling miners to begin their transformation ready for a 'zero' future.

Speak to us today to discover how our fast-to-deploy, highly-flexible & commercially viable at-scale digital mining solutions can deliver your business with measurable results now and ensure profitability into the future.
Want to know about industrial AI + IoT more broadly?
If you'd like to find out more about the technology that underpins all of our digital mining solutions, other industrial uses of AI + IoT, or are eager to get into the detail of precisely what AI and IoT technology are then visit the Rayven blog.