Safety Control:

Improving safety, ESG + oversight in real-time
.
Safety Control is an easy-to-use solution that enables you to improve onsite ESG + safety by mitigating evolving risks in real-time.
Improve onsite safety + ESG performance by

making it simple

to monitor, manage, and intervene with controls in real-time from anywhere.
Safety Control is an easy-to-use solution that enables you to improve onsite ESG + safety, mitigating evolving risks in real-time.
Delivering 'Continuous Verification of Controls' (CVC), Safety Control provides early detection of risk and safety control failures, whilst providing continuous validation of the operational status of all active controls in real-time.
Prevent environmental + personnel incidents

.
Get real-time oversight + alerts of evolving risks

.
Speed-up maintenance + increase uptime

.
Develop a complete, accurate view of safety performance

.
Use Safety Control's different

modules

to get the view + capabilities you need.
The Safety Control solution is designed to support you along your full digital sustainability journey, with configurations and capabilities that are guaranteed to fit your business' needs.
Use the modules and functionality that you need right now, and then broaden your usage later to deliver transformational improvement across sites and your entire organisation.
Improve onsite safety + ESG from anywhere:

all the features you need.
Real-time interactive dashboards + reports

.
See what's happening in the field in real-time and drill into detail at the individual machine and operator levels. Explore historical data and trends to identify problem controls and mitigate future safety + ESG risks.
Alerts + automatic switch-offs

.
Set-up real-time alerts that make those in the field and / or control room aware of immediate risks or problems. Enable automated switch-off of machinery or additional staff guidance after alarm trigger to prevent harm.
Set thresholds + custom logic

.
Safety Control enables you to set custom thresholds and logic where needed for 'validated' and 'failed' states. Use to customise your solution and tailor to plant, environments and processes at individual sites.
Control failure deep-dive

.
The Safety Control solution provides machine operators and other teams with detailed information as to why failures have occurred, enabling maintenance teams to rapidly fix issues and increase uptime.
Create escalation pathways

.
Safety Control enables you to build new, optimised digital escalation pathways. Not only does this speed-up processes, but it ensures via alert acknowledgement and logging that near-misses never go unrecorded.
Manage controls by grouping

.
Our solution enables you to manage controls and machinery across sites remotely, allowing anyone to easily apply optimal control settings by owner, category, or site; and makes safety + ESG optimisation fast.
In-built security + Disaster Recovery

.
Security is at the heart of the solution; it is able to self-mitigate cyber security risks, keep data secure at all points, and provide easy DR. Its security architecture and capabilities limits attack surface and reduces risk.
Integrate any controls, limitlessly

.
Safety Control can connect to any data source or system, ensuring all your controls can be monitored, including: environmental factors, sensors, production metrics, asset condition, transport, and more.
Safety Control can be used to track these safety, ESG + any other metric in

real-time

:
Accident frequency rate
All injury frequency rate
CO level in-field
CO2 TAW
Catastrophic failure
Critical asset maintenance status
Corrective action completion rate
COVID status
Dam status
DART safety
Equipment breakdowns
Environmental alerts
Fatality frequency rate
Ground vibration (mm/sec)
Incident rate
Inspections & audits completed
Lost time incident frequency rate
Lost time injury frequency rate (LTIFR)
Medical treatment injury rate (MTI)
Near miss frequency rate (NMFR)
Noise level (dB)
NOx levels
Occupational illness cases (new / existing)
OHS status
Operator reaction times
Particulate (PM2.5 & PM10) levels
Safety walk status
Tailings status
Temperature
Total case incident rate (TCIR)
Total recordable incident rate (TRIR)
Total recordable injury frequency rate (TRIFR)
Training per employee
Water condition
Water level (mm)
Weather alerts
Want to discover more about Safety Control + what it can do for you?
Book a demo today
.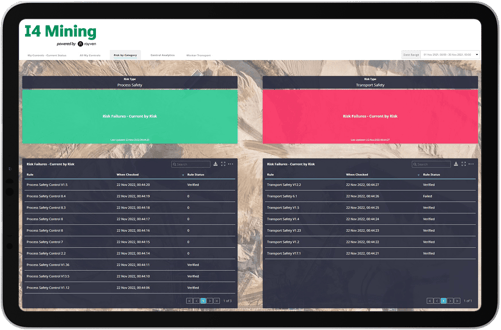 Safety Control enables you to ingest, integrate, and interpret all your safety + ESG data from anywhere to give you the full picture:
All the

help

you need to get started + grow, included

*

.

Strategy Build.
Get support to align your safety strategy with optimised processes via the solution.
Risk Mapping.
Understand where your business' new safety risks are +identify real-time data points.
Deployment.
Get assistance with deploying Safety Control onsite and with integrations.
Data Science.
We will assist you with ingesting, cleaning and uniting your data.
Data Integrity.
Help to set up logic that will ensure that the data entering your solution is accurate.
Scaling.
We can provide you with the guidance required to scale Safety Control to do more.
Training.
We will conduct training with your team and users to rapidly upskill them.
24/7 Support.
Should anything go wrong, our team is there to assist you 365 days a year.
* Each deployment comes with a set number of service hours included as-standard designed to get you up and running. Should additional time be required due to complexity or project scope, then this will come at extra cost and will be outlined in any proposal prior to purchase.
Start your

digital sustainability journey

then scale.
Adopting Safety Control and our other sustainability solutions has distinct stages that map to your immediate and long-term needs depending on your current objectives and which needs to, incrementally, integrate with your wider business and its operations.
I4 Mining's solutions provide a guided pathway to formulate a strategy, measure and disclose performance, and achieve short and long-term ESG + SDG objectives.

Our fully-featured, future-proof sustainability solutions
deliver

real business outcomes

.

Reduce man hours
+ complexity

.
Our sustainability solutions
diminish the need for manual
inputs and creates simple,
repeatable ways of delivering
accurate metrics, forecasts, and
improved performance.

Limit reliance on




external contractors

.
Our easy-to-use technology enables
you to create a personalised strategy,
monitor performance, and uncover
optimisations yourself. It also provides
suppliers with accurate metrics at the start
to deliver more efficient engagements.

Get cost saving insights +




new abilities to seize them

.
Use explorable dashboards and reports
to drill into and compare performance
across sites, business areas, and assets; then use forecasts to model optimisations before leveraging automations to seize them, simply.

Turn reporting cycles
into real time metrics
.
Annual reports with questionable data
cannot provide you with the insights
needed to improve your sustainability
metrics. Much like your ERP, CRM or
other business system; our
sustainability solutions can give you the
data you need to succeed in real-time.

Uncover how emission costs
impact production
.
With a complete, accurate view of
ESG and SDG performance from
mine-to-market, our sustainability
solutions unite your sustainability
data with production measures,
enabling you to establish the true
production costs.

Future-proof, all-in-one
sustainability solution
.
Crystallise and give transparency to your
journey to 2050 and beyond by
using a solutions that have the
capabilities you need today, but which
will keep up with your compliance,
strategic and operational needs as they
change along the way.
Discover more about I4 Mining, our solutions and the technology that they're built upon.
Need help building your own module or scaling your solution?




We can help you to achieve your business objectives rapidly.
Rayven Accelerated Delivery Model (RADM)



Jump start your scoping + design phases by using our Rayven Accelerated Delivery Model (RADM) to get you started, fast. Not a big consulting project that ends with a report, the RADM is about working with our team so that you can quickly identify potential, discover what needs to be done, and establish the budget required - all in just 4 weeks.
Our Service Packs include a bundled number of hours at a discount that can be used to support your teams with achieving your objectives spread across the calendar. They can be used for any of our services, last for 12 months, and can be configured to meet your individual needs.
I4 Mining works with

best-in-class partners

to deliver our

sustainability solutions anywhere in the world.
























Discover the technology that underpins I4 Mining: Rayven's Industry 4.0 Sustainability Performance Platform.