Industry 4.0 Mining Insights:

Improve Plant Performance, Maintenance, Safety + Utilization.


Scroll down to access free resources and discover how Industry 4.0 technology can enable you to improve total effective equipment performance, efficiency, maintenance, and utilization - in real-time.

Industry 4.0 technology enables the mining sector to

implement real-time plant monitoring, enhance performance + safety

, and add all-new predictive abilities.
Across many industries the utilization, efficiency and the lifespan of plant, machinery and equipment are critical measures which predicate productivity and profitability.
With vast fleets containing multiple asset classes spread over remote sites; the mining sector has a harder time than most when it comes to getting accurate real-time performance, maintenance, and utilization metrics of their machinery.
Not only this, the plant that the mining sector utilizes is often much more hazardous. Improper usage, catastrophic failures and a myriad of other potential causes make adverse interactions with it one of the leading contributors to injuries, fatalities and environmental harm.
Managing this is challenge enough, but we're now in a world of zero harm, zero carbon and zero waste; all of which are now strategic as well as operational imperatives for the mining sector that dramatically impacts its plant.
Miners need to do something new if they're to become carbon neutral, prove ESG credentials, as well as protect workers and maintain profits; and the ascent to 2050 dictates that companies need to take affirmative, extensive action with their plant now rather than relying on OEMs and hardware manufacturers to innovate in order to get them there.
Pivotal in achieving these strategic and operational goals will be the application of novel plant solutions that allow those in the boardroom and in the field to utilize Industry 4.0 technology, effortlessly. These technologies exist today and allow the mining sector to uncover all-new data-based insights hidden in large real-time data sets and then seize them before they are lost by leveraging the combined power of data, AI + IoT in a single Sustainability Performance Platform.
Whilst challenging, there are huge advantages to be had with predictive analyses that can do much more than achieve the zero goals but deliver all-new ways of working and find efficiencies that increase profitability, utilization and much more. Read on to discover how Industry 4.0 can transform how you use your plant today.
Our sustainability solutions enable you to effortlessly track these plant & any other metrics in real-time:
Asset location
Asset value
Average bucket weight
Average dump time
Average fuel use per machine
Average loading time
Average number of dumps
Average number of loads
Average payload
Average swing time
Battery status
Braking
Breakdown rate
CANbus truck performance data
Conveyor speed
Coolant temperature
Cycle distance
Cycle duration
Driver Safety Score
Elevation
Emissions (CO2 / particulates)
Empty stop time
Empty travel distance / time
Engine fuel rate
Engine load and speed
Equipment failures rate
Exhaust after-treatment
Exhaust temperature
Flitch
Fuel/energy consumption
Hydraulics
KPI status
Load Tyre Assessment
Loaded travel distance / time
Location
Maintenance duration
Maintenance man hours (MMH)
Maintenance ratio (MR)
Maintenance schedule
Mean downtime (MDT)
Mean time between failures (MTBF)
Mean time between shutdowns (MTBS)
Mean time to restore (MTTR)
Nominal Payload Capacity
Operating / Idle time
Operator performance
Payload
Percent scheduled downtime
Power
Pressures
Safety score
Slope angle
Speed
Temperatures
Throttle
Time to failure
Tonnage per truck cycle
Tons per hour
Tons per load
Torque
Total Effective Equipment Performance (TEEP)
Total minutes lost per shift due to breakdowns
Truck door status
Uptime percentage
Utilization
Industry 4.0 technology will

enhance plant performance

+ help you to achieve your key objectives
:
Improve the ESG, efficiency + production performance of your assets, fleet + operations.
Get real-time plant monitoring + predictive analytics to prevent failures and incidents.
Reduce unexpected & scheduled downtime + implement predictive maintenance.
Lower running costs, efficiency + improve downtime scheduling.
Uncover and seize efficiencies + maximize asset utilization.
Get single-click reporting for compliance, personnel, performance - anything.
Tell us the metrics you need and we'll tell you to get them,

anywhere

+ anytime.
Free insights:
discover how Industry 4.0 technology can enable you to easily improve plant performance, maintenance, safety, efficiency and much more; fast & affordably.
A report examining the need for, use cases and benefits of utilizing Industry 4.0 technology with plant in the mining sector.
Want to see how you can track plant performance in real-time + utilize predictive analytics?


Book a demo today.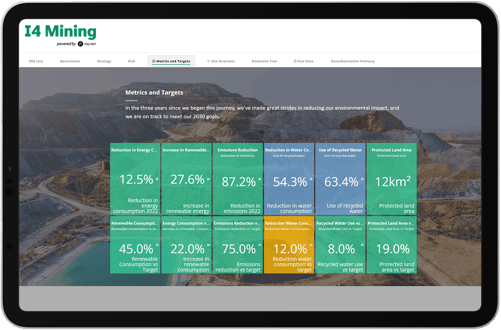 Discover more about I4 Mining, our solutions and the technology that they're built upon.