How Industry 4.0 Technology will Transform

Plant, Machinery & Equipment.



Report

A report examining the need for, use cases and benefits of utilizing Industry 4.0 AI + IoT technology with plant in the mining sector.
Over recent decades, the plant that miners have been using have been getting better and through these enhancements, the sector has been able to reduce incidents and increase efficiencies.

However, we are at something of a crossroads. Zero harm, zero carbon and zero waste measures are now strategic as well as operational imperatives, and the ascent to 2050 dictates that mining companies need to take affirmative, extensive action with their plant now rather than relying on OEMs to innovate in order to get them there.

In this report we've explored Industry 4.0 technology's role in improving plant to achieve strategic goals, the different applications of it (not a run-down of technology but the use cases), and how (as well as where) to get started.
Introduction: Plant and the path to 2050.
The COVID lesson.

Plant + Industry 4.0: it's not about a single solution (or outcome).
Industry 4.0 is about AI + IoT.

The drivers and path to change.
AI + IoT + Plant = A lot.
A word on electrification...
Added advantage.

Where to from here and implementation.

Just some of what's inside...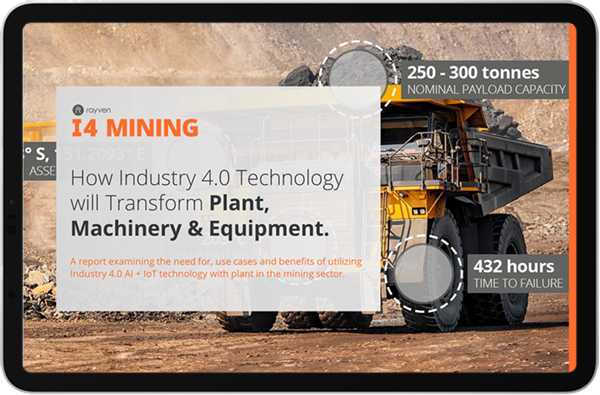 Want to know about industrial AI + IoT more broadly?
If you'd like to find out more about the technology that underpins all of our digital mining solutions, other industrial uses of AI + IoT, or are eager to get into the detail of precisely what AI and IoT technology are then visit the Rayven blog.