Yield + Production


Digital Mining Solution
Increase yields, prevent breakdowns & find efficiencies.
Increase yields, prevent breakdowns + find efficiencies

using adaptive real-time data analysis, mine-to-market.
I4 Mining's Yield + Production digital mining solution enables you to monitor and analyze all of the variables that go into material extraction, screening and processing - from mine-to-market - to uncover improvements and then seize them.
Entirely flexible and capable of integrating with your existing technologies out-of-the-box, our Yield + Production solution seamlessly fits your operations to provide you with real-time adaptive intelligence that leverages the power of AI and automaton to exceed your shift production goals both today and in the future.
I4 Mining's Yield + Production solution also provides you with predictive insights that can enable you to find better machine configurations, predict optimum maintenance downtime, as well as find other input efficiencies so that you can improve productivity and reduce costs.

Key business objectives met

by I4 Mining's Yield + Production digital mining solution:
Get a

real-time view of production measures

from mine-to-market.
Maximize utilization, reduce inefficiencies +

improve tonnage

.
Reduce unexpected downtime

+ prevent machinery breakdowns.
Model changes to

find

efficiencies + cost savings.

Get a

single source of truth

& engine for exploring your 'Big Data'.
Design custom workflows & leverage

automated, AI-led decision-making

.
Want to see Yield +
Production in action?

Book a demo today.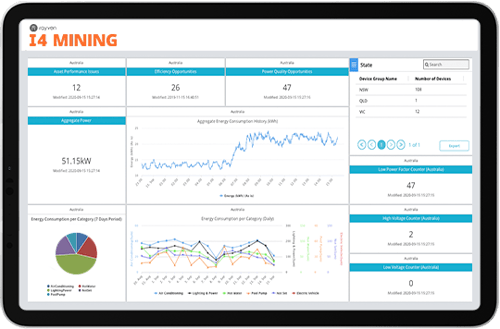 Effortlessly track key production, productivity + any other metrics in
real-time
:
Assay
Asset Utilization
Bench accuracy
Change time
Conveyor load
Cost-per-load
Cycle time
Dilution of ore
Effective utilization
Embodied energy
Engine speed
Fill rate
Fuel consumption
Grade percentage
Gross refining margin
Head grade
Inventory status / levels
Inventory turnover
Inventory velocity
Lifting costs
Material flows
Metal in concentrate
Metal percentage
Number of holes drilled per X
Overall equipment effectiveness (OEE)
Operating efficiency
Operating utilization
Payload correction
Pressures
Product into shed
Production cost-per-unit/barrel
Production effectiveness
Production rate-bank cubic meter
Production volume
Pump performance
Purity
Raw material substitution rate
Raw payload
Recovery efficiency
Reserve & resource replacement
Reserve grade
Stripping ratio
Supply chain costs
Temperature
Tonnage tracking (mine-to-market)
Tons of ore feed
Total lifecycle energy
Utilization
Use of Availability
Warehousing costs
Waste per ton
Waste recycling tonnage
Waste volume
Water usage
I4 Mining's Yield + Production

digital mining solution features

:
Real-time process
& production monitoring
The Yield + Production solution provides you with a platform through which you can explore the real-time and historical performance of all of your production line's input, processes, machinery, personnel, and outputs in one place; utilize AI and machine learning to improve performance and cut costs; and be made aware of real-time improvements, so that your teams can make better decisions that improve yields or prevent incidents and injuries before they occur.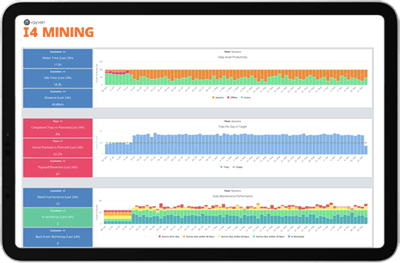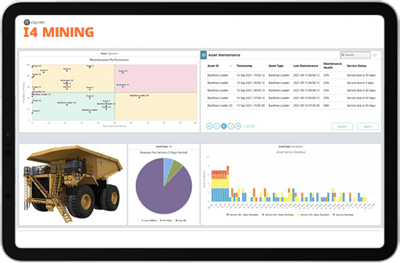 Uncover underutilization, improve
quality & increase yields
I4 Mining's Yield + Production solution provides you with a pane of glass through which you can drilldown into individual asset and personnel performance and explore how they're doing in real-time or have done so historically, getting a true reading of ROA. With the application of machine learning, this process can be automated and even used to suggest and execute upon optimizations as programmed into your custom business logic that will improve yields and increase asset utilization.
Shift & personnel
performance metrics
I4 Mining's Yield + Production solution can provide you with a real-time feed that outlines personnel performance against wider team and organization norms. This information can be used to identify risky practices, where further training is required, as well as who is performing above and beyond so that, as an organization, you can learn and improve practices across the board.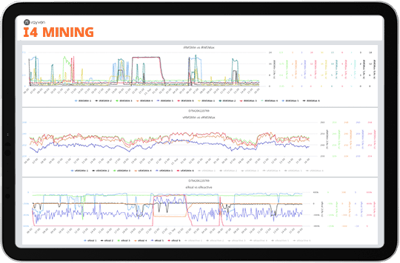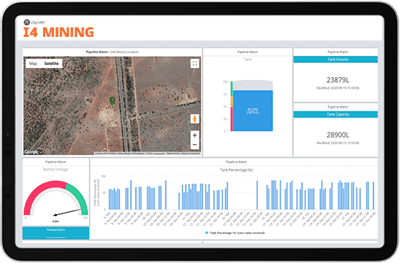 Machinery failure prediction
& predictive maintenance
Unplanned stoppages reduce your output and lead to production shortfalls that cannot be recouped. The I4 Mining Yield + Production solution enables you to better understand the causes of downtime and drive uptime improvements, as well as through the use of machinery telematics and IoT sensors, identify anomalous vibrations, noise and heat to identify forthcoming failures and guide you to efficient fixes. Over time, the use of machine learning and AI can enable you to evolve your maintenance approach to one of predictive maintenance.
Dashboards, reports &
adaptive analytics
The Yield + Production solution is highly-configurable, enabling you to design and deploy UX-tested dashboards that show your personnel the real-time information that they need to do their jobs better. The solution's inbuilt advanced adaptive analytics engine, coupled with clever IoT technology, gives them unparalleled visibility over current holistic performance as well as the ability to explore the minutiae of how a particular part is performing in key assets. This means that they can better plan for the future, too, all whilst in the field or production floor.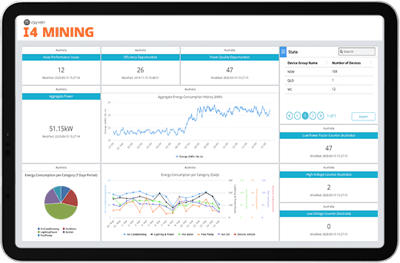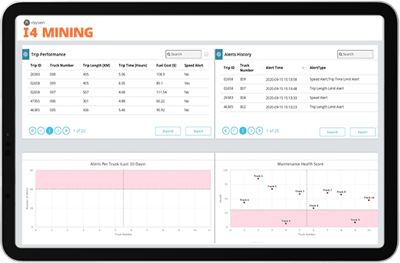 Real-time alerts & AI-led




automated interventions



The Yield + Production solution enables you to easily create custom business logic and design manual, as well as AI-led, if this then that (IFTTT) workflows that deliver key personnel with real-time alerts across devices at anytime, anywhere so that they can intervene with processes and production. This can be taken a step further with the use of AI and machine learning, with the ability for you to program immediate, automated actions that prevent imminent accidents, stop catastrophic failures, or which increase yields and efficiency.
World-leading combined




workflow modeller & AI engine



The I4 Mining Yield + Production solution is built upon Rayven's world-leading combined AI + IoT platform. Featuring drag-and-drop, simple-to-use configuration, deployment and optimization interfaces, it's designed to be simple so that your IT teams need not be involved with build or day-to-day running - it can be done by those with a better understanding of what needs to be done. It's so full of functionality, the Rayven platform gives you everything that you need to build a complete Industry 4.0 solution, effortlessly from day one.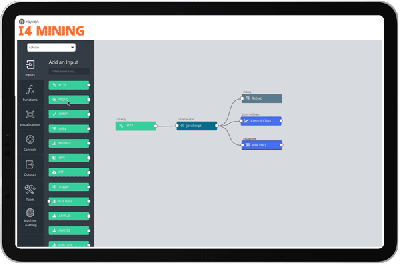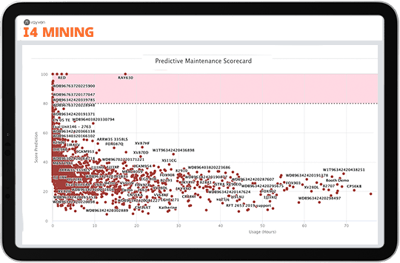 Data manipulation, cleansing
& analysis in-built
Data is critical to the performance of you AI + IoT solution, so I4 Mining's Yield + Production has inbuilt functionality to ensure data integrity and quality. Featuring easily-configurable machine learning algorithms that check and correct errors in your data in real-time, your operators in the field and management teams in the boardroom can have the confidence to make critical operational or strategic decisions for both the now and future based on 99.99% data accuracy.
Enterprise security
as-standard
The I4 Mining Yield + Production solution features enterprise-level technologies that ensure confidentiality, mitigate cyber threats and provide simple disaster and data recovery. With patented security tools, integrations with leading providers and our own proprietary security architecture, you can be certain that your data and solution is safe and secure at all points of your IoT environment.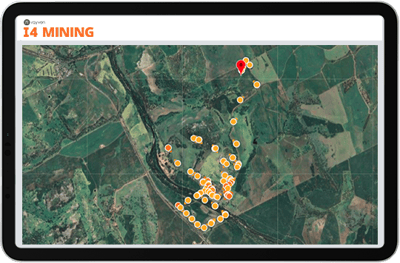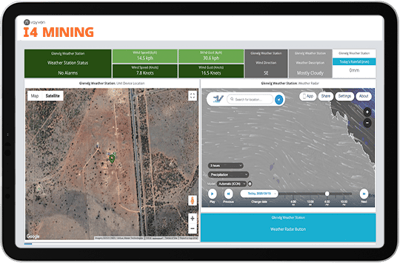 Integration &
interoperability
Making the right real-time and long-term decisions using your Yield + Production solution is wholly dependent on it having access to the right data. I4 Mining's solutions enable you to connect, unite and leverage any data source, system or sensor - as well as data in any format - out-of-the-box, meaning you get a single source of truth through which you can analyze and predict business outcomes across your operations or to help you better meet strategic, business-wide goals.
Need help creating, optimizing or scaling your solution?


We've got option to help you achieve your business objectives rapidly.
Rayven Accelerated Delivery Model (RADM)



Jump start your scoping + design phases by using our Rayven Accelerated Delivery Model (RADM) to get you started, fast. Not a big consulting project that ends with a report, the RADM is about working with our team so that you can quickly identify potential, discover what needs to be done, and establish the budget required - all in just 4 weeks.
Our Service Packs include a bundled number of hours at a discount that can be used to support your teams with achieving your objectives spread across the calendar. They can be used for any of our services, last for 12 months, and can be configured to meet your individual needs.
Discover more about I4 Mining, our solutions and the technology that they're built upon.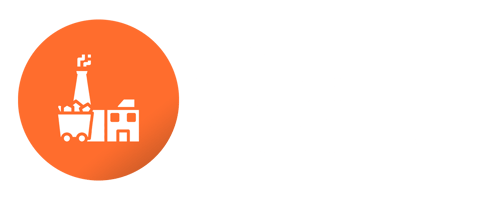 Why our

customers choose

I4 Mining:

Built for the
Mining industry.
I4 Mining

is a transformative technology built by people with hands-on industry experience - it's made to not just fit, but work brilliantly.

Easy-to-use,
IT-less design.
The

I4 Mining

platform features drag-and-drop configuration and simple to use interfaces; it's designed to be used by anyone and needs no coding.

I4 Mining

's solutions can be configured and deployed in days. Start with 80% of the solution & hyper-customize the 20% that matters.

Enterprise-scalability, but affordable.
I4 Mining

's solutions are designed to be affordable. They enable you to get started, quickly adjust, iterate and grow - proving ROI at every stage.

Ultra-secure
(at all points).
I4 Mining

's solutions are built on the Rayven platform which's proprietary security architecture ensures data is secure at all points.

On top of 24/7 support,

I4 Mining

's technical and data science team are available to support you (or your customers), end-to-end.

Integrates with anything, to give a true source of truth.
I4 Mining

's solutions are limitlessly flexible & capable of integrating with systems, machinery, platforms - anything you need it to (as-standard).

Everything you need to become Industry 4.0.
Each of

I4 Mining

's solutions feature Rayven's world-leading combined AI + IoT platform, making it capable of delivering complete transformation.
I4 Mining works with

best-in-class partners

to deliver our transformational digital mining solutions anywhere in the world.
























Find out more about I4 Mining's
other

ready-to-deploy
digital mining solutions

:
Find out more about the platform that powers our solutions:


the Dynamix real-time data and AI + IoT solution delivery platform

.