Oversight


Digital Mining Solution
Get an accurate single source of truth + apply Industry 4.0 capabilities from mine-to-market to reduce risk & solve compliance challenges.
Enabling you to make + execute the decisions that will

guarantee strategic & operational success

from mine-to-market.
I4 Mining's Oversight digital mining solution improves real-time strategic decision-making, enhances risk assessment and reduces the reporting burden - from mine-to-market.
The solution provides you with the single source of truth for your entire operations, offering advanced real-time adaptive and predictive analytics that you can manipulate, drilldown into and explore. Capable of connecting with every one of your systems and IoT-enabled devices, Oversight gives you a single pane of glass through which you can interpret large data sets and then utilize inbuilt, easy-to-use AI technology to manipulate them to ensure accuracy, provide insights and uncover optimizations.
I4 Mining's Oversight provides your management teams with real-time, 24/7 transparency and auditability of your regulatory compliance requirements and strategic goals; all whilst providing you with a platform that enables you to make better decisions and execute them.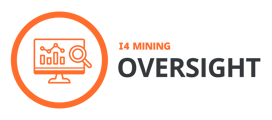 Key business objectives met

by I4 Mining's Oversight

digital mining solution:
Get a real-time

single source of truth

+ advanced analytics from mine-to-market.
Deliver

zero harm to workforce + environment

objectives

.
Conduct

enhanced risk assessments

using complete, accurate data.
Improve uptime + production to

increase tonnage

.

Model process & equipment optimizations -

digital twin

.
Design custom workflows + leverage

automated, AI-led decision-making

.
Want to see Health + Safety in action?

Book a demo today.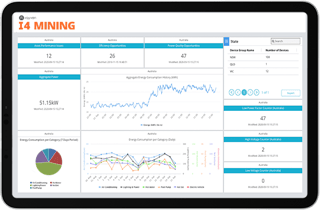 Effortlessly track these + any other metrics in
real-time
:
All-in costs-per-unit (AIC)
All injury frequency rate
All-in sustaining cost-per-unit (AISC)
Average payload
Average realised price
Average cost per hour of X
Benchmark average price
By-product credit
Capital expenditure
Cash cost
Cash operating costs per barrel of oil equivalent (BOE)
Cash operating costs per unit produced
Cash-to-cash time (C2C)
Change time (time between cycles)
Churn
Closure budget status
CO2/NOx/PM10/PM2.5/Fluoride emissions
Compliance
Consolidated sales revenues
Cost of goods sold
COVID status
Delivery in Full (DIF)
Delivery in Full on Time (DIFOT)
Delivery on Time (DOT)
Due diligence status
Efficiency score
Employee hiring rate
Employee turnover rate
Energy usage / mix
Environmental score
Exploration costs
Fatality frequency rate
Finding and development costs
Fines and prosecutions (US$)
Freight Bill Accuracy
Grade percentage
Gross product sales
Inventory status / levels
Inventory turnover / velocity
Inventory to sales ratio
JORC balance
KPI status
Land footprint - disturbed
Land footprint - regenerated
Lifespan estimate
Lifting costs
Logistics costs
Net cash generated
Net debt
Occupational illness cases (new / existing)
Overall Equipment Effectiveness
(OEE)
OHS status
Operational efficiency
Payables to government status
Perfect Order Index
Production cost per-tonne
Production volume
Profit / loss
Profitability
Safety score
Sales revenue
Sales volume
Scope 1 emissions (tCo2e)
Scope 2 emissions (tCo2e)
Scope 3 emissions (tCo2e)
SDG status
Significant environmental incident rate
Supply chain costs
Sustainable Mining Indices
TCFD status
TOE Footprint
Total Effective Equipment Performance
(TEEP)
Total lifecycle energy
Unit variable costs
Utilization
Volume sold
Warehousing costs
Women in workforce
Work order completion
I4 Mining's Oversight

digital mining solution features:
Real-time adaptive dashboards
& interactive reporting
The I4 Mining Oversight solution provides you with a single place to monitor, manage and explore your operations and strategic goals in real-time - a complete, accurate single source of truth. Using your real-time data and 3rd party sources, the solution can provide you with a comprehensive macro and micro view of your business, with the ability to drill-down and up depending on your needs.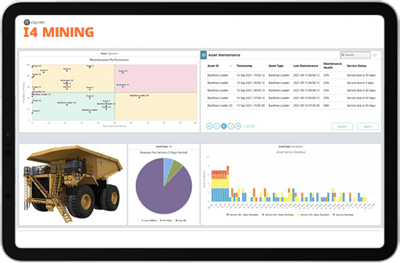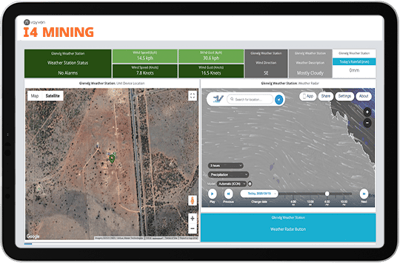 Integration &
interoperability
The Oversight solution is highly-flexible and interoperable so that you can unite and leverage any data, both real-time and historical. The solution is capable of connecting to all of your systems, asset telemetry or in-field IoT sensors; integrate 3rd party feeds; and interpret any data format to create a comprehensive single source of truth for your business to base business decisions upon - whether by human or AI. It's a complete, omnidirectional platform that can be the foundation for true Industry 4.0 transformation.
World-leading combined




AI + IoT engine



The I4 Mining Oversight solution is built using Rayven's world-leading combined AI + IoT platform. Featuring drag-and-drop, simple-to-use configuration and optimization interfaces, it doesn't require IT expertise to explore your data and engineer AI-led decision-making and automated control workflows. Packed with functionality out-of-the-box, the Rayven platform is Industry 4.0-ready and capable of being your vehicle to complete digital transformation.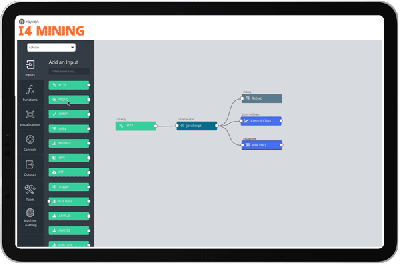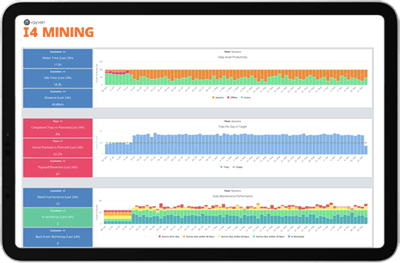 Data manipulation, cleansing
& analysis in-built
Data accuracy is critical in both strategic and operation decision-making. I4 Mining's Oversight solution features inbuilt machine learning functionality that is can ensure data integrity and quality to 99.99% accuracy, in real-time. Once configured and trained, you'll be able to manipulate and interpret 'Big Data' to find unique insights hidden in the data and make better operational and strategic decisions.
Real-time alerts & AI-led
automated interventions
The I4 Mining Oversight solution offers you the ability to create custom business logic, set thresholds and design if this then that (IFTTT) workflows that provide you with alerts or trigger immediate, automated AI-led actions. These can be used to to prevent compliance breaches, machinery failures or to improve performance in real-time. What's more, over time, machine learning algorithms will learn from past results, giving you self-optimizing processes and operations.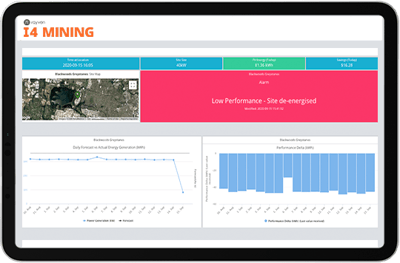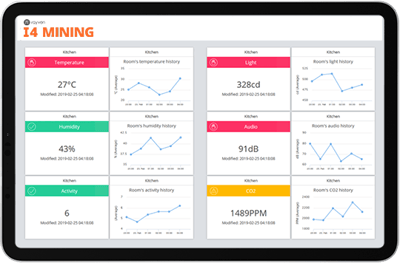 Simplified compliance
monitoring & reporting
The need to meet regulatory thresholds and report on compliance is an often burdensome one for many organizations. I4 Mining's Oversight solution can automate reporting and alert you to problems within your operations before they breach thresholds and cause harm to personnel or the environment; adopting it is a simple and easy way for mining operations to achieve their strategic zero-harm goals in the process.
Enterprise security
as-standard
The I4 Mining Oversight solution was built with security top-of-mind. With enterprise-level security features, integrated DR, as well as proprietary and 3rd party security tools factored into the battle-tested security architecture; your data will remain safe and confidential at all points of your IoT environment.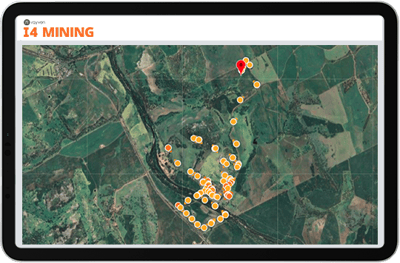 Need help creating, optimizing or scaling your solution?


We've got option to help you achieve your business objectives rapidly.
Rayven Accelerated Delivery Model (RADM)



Jump start your scoping + design phases by using our Rayven Accelerated Delivery Model (RADM) to get you started, fast. Not a big consulting project that ends with a report, the RADM is about working with our team so that you can quickly identify potential, discover what needs to be done, and establish the budget required - all in just 4 weeks.
Our Service Packs include a bundled number of hours at a discount that can be used to support your teams with achieving your objectives spread across the calendar. They can be used for any of our services, last for 12 months, and can be configured to meet your individual needs.
Discover more about I4 Mining, our solutions and the technology that they're built upon.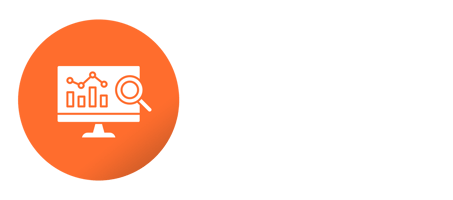 Why our

customers choose

I4 Mining:

Built for the
Mining industry.
I4 Mining

is a transformative technology built by people with hands-on industry experience - it's made to not just fit, but work brilliantly.

Easy-to-use,
IT-less design.
The

I4 Mining

platform features drag-and-drop configuration and simple to use interfaces; it's designed to be used by anyone and needs no coding.

I4 Mining

's solutions can be configured and deployed in days. Start with 80% of the solution & hyper-customize the 20% that matters.

Enterprise-scalability, but affordable.
I4 Mining

's solutions are designed to be affordable. They enable you to get started, quickly adjust, iterate and grow - proving ROI at every stage.

Ultra-secure
(at all points).
I4 Mining

's solutions are built on the Rayven platform which's proprietary security architecture ensures data is secure at all points.

On top of 24/7 support,

I4 Mining

's technical and data science team are available to support you (or your customers), end-to-end.

Integrates with anything, to give a true source of truth.
I4 Mining

's solutions are limitlessly flexible & capable of integrating with systems, machinery, platforms - anything you need it to (as-standard).

Everything you need to become Industry 4.0.
Each of

I4 Mining

's solutions feature Rayven's world-leading combined AI + IoT platform, making it capable of delivering complete transformation.
I4 Mining works with

best-in-class partners

to deliver our transformational digital mining solutions anywhere in the world.
























Find out more about I4 Mining's
other
ready-to-deploy
digital mining solutions
:
Find out more about the platform that powers our solutions:


the Dynamix real-time data and AI + IoT solution delivery platform

.