Energy + Resources


Digital Mining Solutions
Turn real-time energy + resource data into tangible cost and carbon savings.
Finding efficiencies & reducing the use of costly inputs can dramatically

improve your profitability

.
I4 Mining's Energy + Resources digital mining solution enables you to optimize the usage of the costly inputs and waste outputs that go into your operations from mine-to-market.
From electricity and fuel, through to water usage and labour, our solution can collate massive data sets and analyze where they intersect before deploying custom-built machine learning algorithms to uncover inefficiencies both historic and present, providing real-time alerts and optimization recommendations.
The solution provides you with a single pane of glass through which you can look at all of your operations inputs and wastage outputs to enhance usage, scheduling and detect issues before they become problems.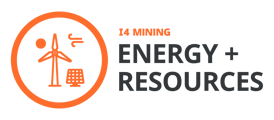 Key business objectives met

by I4 Mining's Energy + Resources

digital mining solution:
Identify resource wastage + inefficiencies

in real-time from mine-to-market.
Accurately forecast

production needs, resource levels + usage.
Get

real-time resource usage

at machine, fleet, site + business-wide

levels.
Model the impact of process + equipment changes

before deploying in-field.

Get a

real-time single source of truth

+ predictive analytics engine.
Design custom workflows + leverage

automated, AI-led decision-making

.
Want to see Energy + Resources in action?

Book a demo today.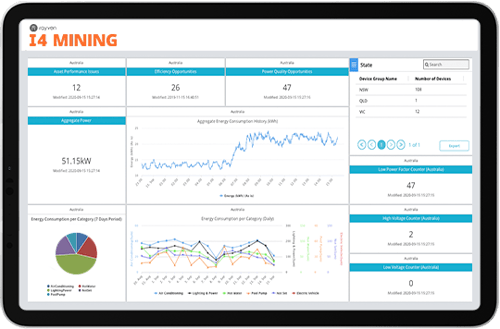 Effortlessly track these energy, efficiency + any other metrics in
real-time
:
Asset health
Average energy production rate
CANbus truck performance data
Dam levels
Diesel storage levels
Efficiency
Electricity purchased
Energy price / cost
Energy production
Energy storage
Energy usage / consumption
Fan speeds
Fuel density
Fuel tank levels
Generation rate
HVAC status / performance
Humidity (now + predicted)
Inventory status
Inverter performance
Leak status
Moisture level
Oil level / reserves
Operation status
Power factor
Power power consumption
Power production
Predicted energy needs
Predicted resource needs
Pump efficiency
PV energy
Recycling throughput
Refrigeration motor performance
Renewable energy in energy mix
Temperature
Total fuel consumed
Total fuel reserves
Totalized flows
Transformer voltages
Waste pit levels
Water flow rate
Water levels (now + predicted)
Water pressure
Water usage/consumption
Weather data
I4 Mining's Energy + Resources

digital mining solution features:
Real-time energy &
resource usage monitoring
The I4 Mining Energy + Resources solution provides you with a single place to monitor, manage and explore inefficiencies across your sites, fleets and assets. Using your real-time data, as well 3rd party data feeds (such as energy pricing or raw material value), the solution can provide you with a comprehensive, accurate view of all of your inputs and provide your teams with guidance on how they can find efficiencies in the here and now, before potential savings are lost.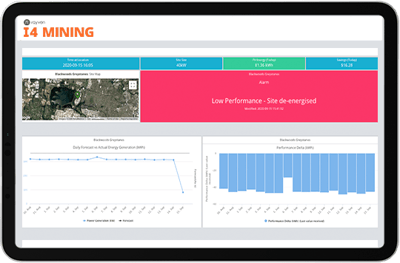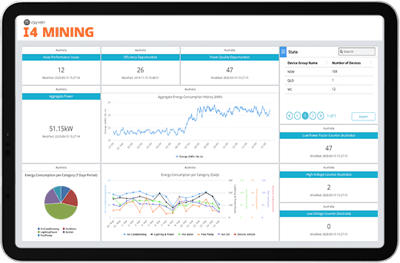 Unique insights & real-time
improvement suggestions

I4 Mining's Energy + Resources solution features real-time and historical data which, when utilized by its inbuilt machine learning and AI engine, can provide your teams and personnel with insights on how they can make real-time and strategic improvements based on their individual function whilst in the field. Not only that, through the use of the solution's custom business logic and automation capabilities, you can remove the need for manual action and make your organization more efficient (and Industry 4.0).
Equipment fault detection
& maintenance direction
Failing machinery often uses more energy and creates increased wastage long before it grinds to a halt. Additionally, running assets that aren't performing optimally can lead to larger, catastrophic failures that not only take longer to fix, but that can be dangerous. This solution enables you to utilize machinery telematics and in-field IoT sensor technology to closely monitor machinery performance and identify issues before scheduled maintenance, reducing inefficiencies and preventing harm occurring to your staff and other assets.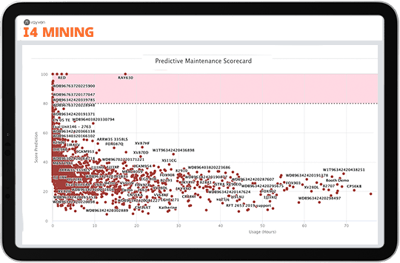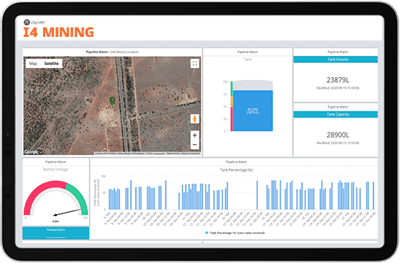 Real-time alerts & AI-led




automated interventions



Easily create custom business logic and design manual, as well as AI-led, workflows that deliver real-time alerts across devices at anytime, anywhere when SOP's are exceeded. With the use of the solution's machine learning functionality, take this a step further and allow AI-led, automated intervention that allows you to fine tune operations and individual functions to ensure the maximum return.
Dashboards, reports &
adaptive analytics
I4 Mining's Energy + Resources solution puts all the information that your different teams need at their fingertips, no matter who and where they are. Featuring an inbuilt advanced adaptive analytics engine, coupled with UX-tested design, you can ensure that the right person has the right information at the right time, enabling them to make better operational and strategic decisions.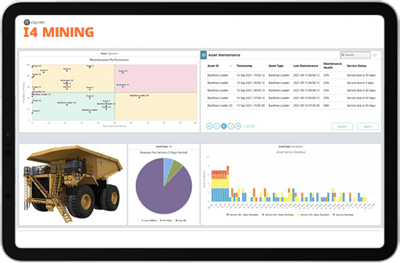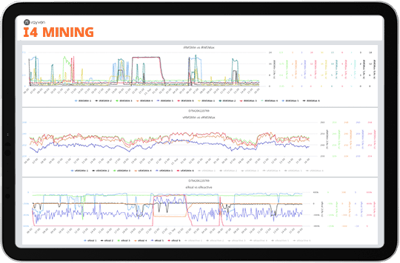 Data manipulation, cleansing
& analysis in-built
Accuracy is key to squeezing every dollar from I4 Mining's Energy + Resources solution, so it has inbuilt functionality that ensures data integrity and quality at all times, in real-time. When correctly configured, the solution guarantees 99.99% data accuracy, meaning that your operations and management teams are able to analyze your 'Big Data' sets with full confidence that what they're seeing is complete and accurate.
World-leading combined




workflow modeller & AI engine



The I4 Mining Energy + Resources solution is built using Rayven's world-leading combined AI + IoT platform. Featuring drag-and-drop, simple-to-use configuration and optimization interfaces, it's simple to use and doesn't require IT expertise, meaning it can be built and improved by those that have a better understanding of operational and strategic goals. Packed with functionality out-of-the-box, the Rayven platform is Industry 4.0-ready and capable of being your vehicle to complete digital transformation.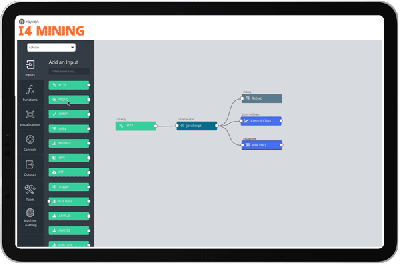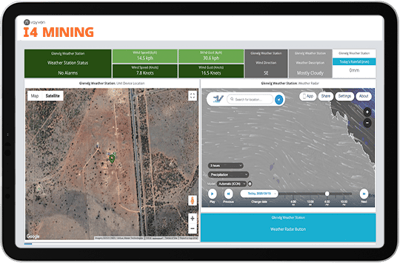 Integration &
interoperability
Given the fluctuating nature of asset prices, as well as the sheer number of different systems and devices that need to be analyzed cumulatively to provide better insights and efficiency savings, the Energy + Resources solution is designed to be highly-flexible. The solution enables you to simply connect, unite and leverage any data source, system or sensor - as well as data in any format - making it easy to create a comprehensive single source of truth for you and your team to make real-time business decisions upon.
Enterprise security
as-standard
The I4 Mining Energy + Resources solution was built with security top-of-mind. With enterprise-level security features, plus additional proprietary tools and battle-tested security architecture, your data remains safe and confidential at all points of your IoT environment. Not only that, with in-cloud back-ups and quick-to-deploy disaster recovery features, should the worse ever occur you will be back up and running in days, not weeks.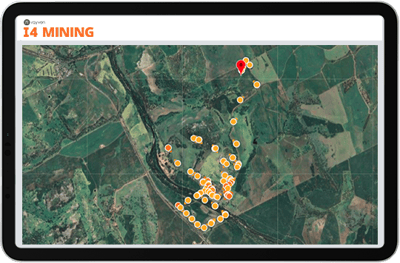 Need help creating, optimizing or scaling your solution?


We've got option to help you achieve your business objectives rapidly.
Rayven Accelerated Delivery Model (RADM)



Jump start your scoping + design phases by using our Rayven Accelerated Delivery Model (RADM) to get you started, fast. Not a big consulting project that ends with a report, the RADM is about working with our team so that you can quickly identify potential, discover what needs to be done, and establish the budget required - all in just 4 weeks.
Our Service Packs include a bundled number of hours at a discount that can be used to support your teams with achieving your objectives spread across the calendar. They can be used for any of our services, last for 12 months, and can be configured to meet your individual needs.
Discover more about I4 Mining, our solutions and the technology that they're built upon.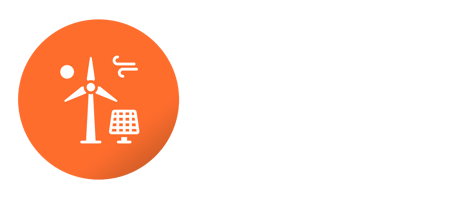 Why our

customers choose

I4 Mining:

Built for the
Mining industry.
I4 Mining

is a transformative technology built by people with hands-on industry experience - it's made to not just fit, but work brilliantly.

Easy-to-use,
IT-less design.
The

I4 Mining

platform features drag-and-drop configuration and simple to use interfaces; it's designed to be used by anyone and needs no coding.

I4 Mining

's solutions can be configured and deployed in days. Start with 80% of the solution & hyper-customize the 20% that matters.

Enterprise-scalability, but affordable.
I4 Mining

's solutions are designed to be affordable. They enable you to get started, quickly adjust, iterate and grow - proving ROI at every stage.

Ultra-secure
(at all points).
I4 Mining

's solutions are built on the Rayven platform which's proprietary security architecture ensures data is secure at all points.

On top of 24/7 support,

I4 Mining

's technical and data science team are available to support you (or your customers), end-to-end.

Integrates with anything, to give a true source of truth.
I4 Mining

's solutions are limitlessly flexible & capable of integrating with systems, machinery, platforms - anything you need it to (as-standard).

Everything you need to become Industry 4.0.
Each of

I4 Mining

's solutions feature Rayven's world-leading combined AI + IoT platform, making it capable of delivering complete transformation.
I4 Mining

works with

best-in-class partners

to deliver our transformational solutions anywhere in the world.
























Find out more about I4 Mining's
other
ready-to-deploy
digital mining solutions
:
Find out more about the platform that powers our solutions:


the Dynamix real-time data and AI + IoT solution delivery platform

.