Turn your data into predictive insights

in real-time

.
Dynamix's

drag-and-drop AI engine makes Machine Learning algorithms simple to create, deploy + use in the real world

.
Making Machine Learning + AI as easy as copy, paste.
Dynamix's Machine Learning engine is fully-integrated, easy-to-use, and

enables you to improve the future

.

Dynamix combines data consolidation, AI + IoT into a single, seamless platform. Utilizing the same drag-and-drop logic as the Workflow Builder, our Machine Learning engine enables anyone to create their own or import any pre-built Python-based algorithm, train it, and then apply it to their real-time data to provide not only predictive insights, but real-time optimization abilities led by both humans in the field + AI.
By combining predictive analytics with IoT technology in one end-to-end platform, Dynamix enables you to quickly reduce costs, find optimizations and improve your bottom-line both measurably and demonstrably in weeks.

Dynamix makes Machine Learning + Predictive insights accessible for all:
Easy-to-use


Featuring a simple drag-and-drop interface, anyone from the CEO to the intern can create, import or deploy complex Machine Learning algorithms: AI for all.
Fully-integrated


Unlike nearly every solution on the market, our Machine Learning engine is an integrated part of Dynamix - no gaps, less complexity + better results.
Included as-standard


The Dynamix platform is all-in-one, with no hidden costs or additional module options, meaning you get Machine Learning capabilities out-of-the-box as-standard.
Create or import


Dynamix supports any Python Machine Learning model, meaning you can build your own in our builder or import and personalize any pre-built algorithm.
Multiple models


Dynamix enables you to run as many models as you like. Train and deploy many, compare performance, see which works best and then create a new one to do something else.
Continuous improvement


By uniting your data + applying machine learning to it in real-time, you'll create a feedback loop that's always optimizing + providing new insights.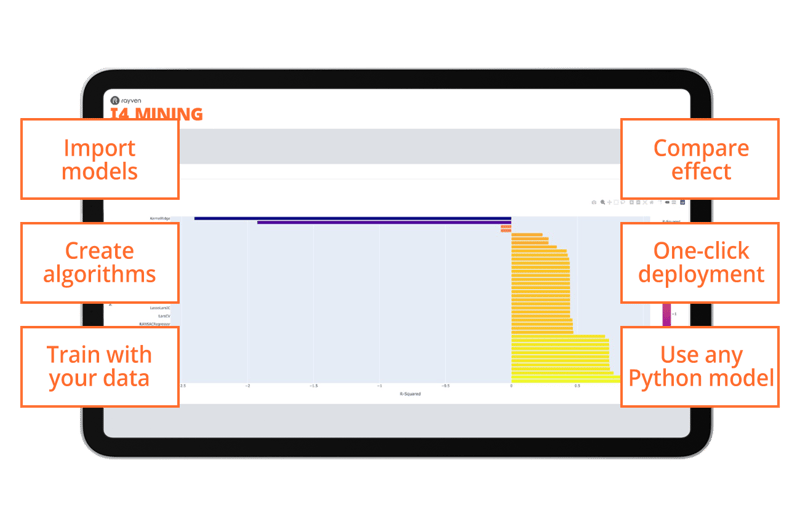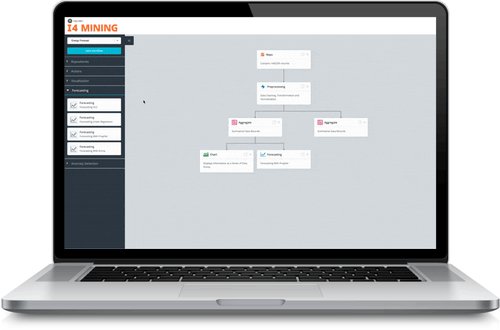 Our

no-code, simple, drag-and-drop

interface for creating your own algorithms.
Utilizing the same technology as our Workflow Builder, which enables you to integrate and collect data from any system to create a real-time IoT monitoring and management system, the AI Dynamix predictive analytics modeller and engine enables you to simply drag-and drop data, actions and common outcomes – selecting how you want information visualized – all from a single interface.
1) Prepare your data
Select training data from your workflow and apply ready-to-go filters and normalizers that are natively available in the Machine Learning Workbench.
2) Build or choose your algorithm
Create your algorithm or import an off-the-shelf Python algorithm for your use case, whether that's forecasting, anomaly detection, predictive maintenance or something else.
3) Training / Learning
Apply the algorithm to prepared offline data and leave it to create a model that's able to answer the questions that you have posed to it.
4) Deployment
Once you've trained your chosen model, simply drop it into the Workflow Builder in the Rayven Platform to add predictive analytics to your existing IoT monitoring and management solution.
5) Ongoing improvement
As your algorithm operates, faults occur and you (and it) learn from missed breakdowns your model evolves. Through AI Dynamix you can easily make adjustments and improvements.
6) Add another or contrast and compare
The platform supports your running multiple models simultaneously for different purposes or to test and see which one works best for you.
Bring your own model.

Dynamix will support any Python-based predictive analytics model, including:







Need help building a custom predictive analytics model?


We can help you deploy your own predictive analytics model in days, not months.
Getting your Machine Learning model + AI algorithm looking at past data and suggesting optimizations is one thing, but training it to tell you what's about to happen in real-time based on how you're operating at that moment can be another.
Dynamix enables you to achieve Industry 4.0-status, with AI-led interventions, and we can help you to get there even faster, helping you to:
Define your goals, identify the data that affects it and where it's stored + how to get to it in real-time
We combine + integrate existing, historical, training, human-entered, static and real-time data flow to build a repository
Create data visualizations + dashboards to support pre-processing + simulation
Pre-process your data. Conduct data validation, cleansing, sifting, decomposition, filtering, ordering, spectral decompression to determine what is relevant and establish parameters for the future
We build the data model that your algorithm will be based on or import your existing model
Build the Machine Learning algorithm based on your individual business' set-up and desired outcomes
Deploy the model in our simulator + run it with your data to train your algorithm and check it's correct
We deploy it all into your solution, ensuring it's working + is delivering adaptive improvements
Over time and with larger data repositories, we can fine-tune your model, trial new ones, or add additional use cases to the same data sets to compound returns Harness the true value of your data, transform it into actionable insights, and drive immediate business outcomes.
Discover more about I4 Mining, our solutions and the technology that they're built upon.

Click to explore Dynamix:
I4 Mining works with

best-in-class partners

to deliver our transformational digital mining solutions anywhere in the world.
























Find out more about I4 Mining's
ready-to-deploy
digital mining solutions
:
Still want to know more about the technology?


Speak to us now or visit the Rayven website to get a complete view of what's inside our world-leading integrated AI + IoT platform.