Asset Monitor + Maintenance


Digital Mining Solution
Achieve 100% scheduled uptime & increase tonnage.
A real-time asset monitoring, utilization optimization & predictive maintenance solution

all-in-one

.
I4 Mining's Asset Monitor + Maintenance digital mining solution enables you to monitor and improve the utilization of all your plant across your operations, from drill rigs and motor graders, to pumps and HVAC equipment.
Supporting the real-time connectivity to all your machinery, meters, as well as any other system and technology, I4 Mining's Asset Monitor + Maintenance solution solves your asset management challenges, providing you with real-time analytics and predictive insights that allow you to direct effort and investment more effectively.
With real-time tracking, predictive maintenance, and lifespan optimization abilities; you can effortlessly improve asset performance, reduce running costs and achieve 100% scheduled uptime.

Key business objectives met

by I4 Mining's Asset Monitor + Maintenance digital mining solution:
Improve performance

of your assets, fleet & operations.
Uncover inefficiencies &


maximize asset utilization

.
Reduce unexpected downtime

& prevent catastrophic failures.
Lower maintenance costs

& improve downtime scheduling.

Get a

single source of truth

& engine for exploring your 'Big Data'.
Design custom workflows & leverage

automated, AI-led decision-making

.
Want to see Health + Safety in action?

Book a demo today.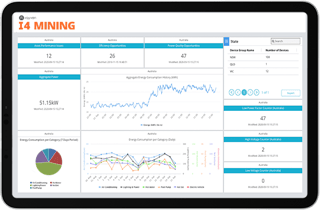 Effortlessly track these plant + any other metrics in
real-time
:
Asset location
Asset value
Average bucket weight
Average dump time
Average fuel use per machine
Average loading time
Average number of dumps per X
Average number of loads per X
Average payload
Average swing time
Battery status
Braking
Breakdown rate
CANbus truck performance data
Conveyor speed
Coolant temperature
Cycle distance
Cycle duration
Driver Safety Score
Elevation
Emissions (CO2 / particulate)
Empty stop time
Empty travel distance / time
Engine fuel rate
Engine load and speed
Equipment failures rate
Exhaust after-treatment
Exhaust temperature
Flitch
Fuel/energy consumption
Hydraulics
KPI status
Load tyre assessment
Loaded travel distance / time
Location
Maintenance duration
Maintenance man hours (MMH)
Maintenance ratio (MR)
Maintenance schedule
Mean downtime (MDT)
Mean time between failures (MTBF)
Mean time between shutdowns (MTBS)
Mean time to restore (MTTR)
Nominal Payload Capacity
Operating / Idle time
Operator performance
Payload
Percent scheduled downtime
Power
Pressures
Safety score
Slope angle
Speed
Temperature
Throttle
Time to failure
Tonnage per truck cycle
Tons per hour / load
Torque
Total Effective Equipment Performance (TEEP)
Total minutes lost per shift due to breakdowns
Truck door status
Uptime percentage
Utilization
I4 Mining's
Asset Monitor + Maintenance

digital mining solution features

:
Real-time asset tracking
& monitoring
Our solution provides you with a single pane of glass for all your OEM plant through which you can explore individual assets' performance or analyze cumulative metrics across fleets and machinery classes - in real-time. It enables you to monitor anything that limits productivity and find optimal ways of managing them to limit unnecessary capital outlays and interventions.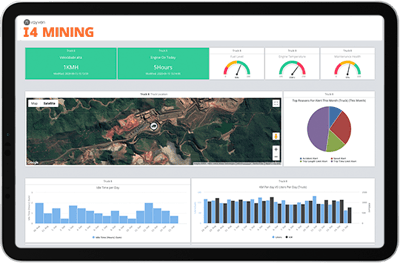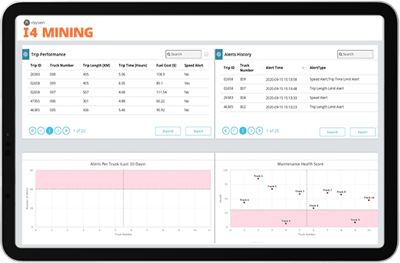 Implement predictive &
preventative maintenance
Through continuous monitoring via asset telematics and IoT sensors and devices, you can detect problems (such as excessive vibrations or temperature increases) and accurately forecast time to failure - as well as guide you to the correct fix. As you build a data bank and machine learning algorithms learn, you'll be able to better schedule maintenance and implement predictive maintenance regimes.
Geo-fencing & real-time
risk analysis
I4 Mining's Asset Monitor + Maintenance solution can show you where your assets are, track their movements over time, and be alerted to suspicious or out-of-character movements that may indicate theft or unsafe practices, such as speeding or consistent heavy breaking. From this, you can discern and establish real-time risk metrics for each of your assets and their operators.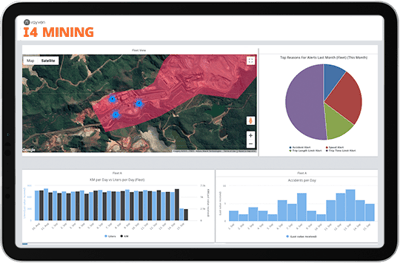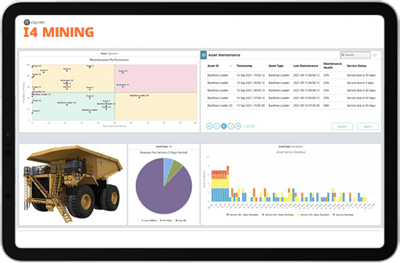 Uncover poor performance,
inefficiencies & underutilization
I4 Mining's Asset Monitor + Maintenance solution allows you to drilldown into individual assets and their historical maintenance regimes, examine output and establish which assets are underutilized (by operator, unit or fleet) or are underperforming against its class. With this information, you can make alterations to maximize uptime, more accurately establish ROA, and guide future procurement decisions.
Dashboards, reports &
adaptive analytics
The Asset Monitor + Maintenance solution makes it easy to configure dashboards and put real-time, accurate and timely information in the hands of people in-the-field or boardroom at any time, on any device. Our UX-tested reports and dashboards, coupled with our advanced adaptive analytics engine, gives you unparalleled visibility over your complete operations as well as the ability to drill-down and explore individual metrics - all in the same place.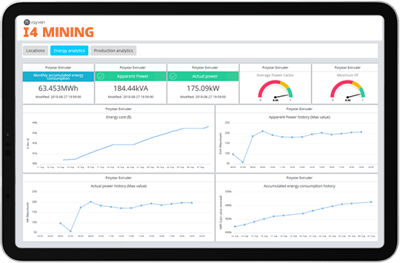 Real-time alerts & AI-led




automated interventions



The Asset Monitor + Maintenance solution enables you to easily create custom business logic, set thresholds and design if this then that (IFTTT) workflows that, when triggered, gives you real-time alerts and implement immediate, automated remediation actions to prevent accidents, catastrophic failures or increase performance. Not only that, you can utilize the solution's AI engine to learn and improve your fixes and optimizations.
World-leading combined




workflow modeller & AI engine



The I4 Mining Asset Monitor + Maintenance solution features Rayven's world-leading combined AI + IoT platform, featuring drag-and-drop, codeless configuration interfaces. It's designed to be simple, so that it doesn't need IT support to configure, run and optimize - it can be done by those that need it and know what needs to be done. It's so full of functionality, you've everything you need to build a complete Industry 4.0 solution.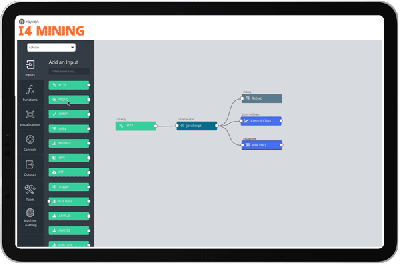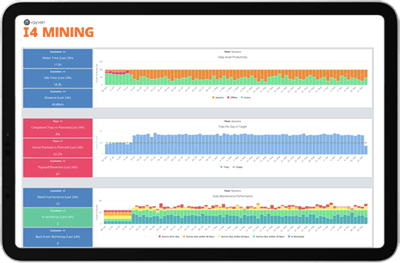 Data manipulation, cleansing
& analysis in-built
Data is critical to the performance of any AI + IoT solution. Asset Monitor + Maintenance has inbuilt functionality that enables your to ensure data integrity and quality, with features and machine learning abilities that allows your solution to check and correct deviations and errors in your data in real-time. This means that your data and the insights provided by the I4 Mining Asset Monitor + Maintenance solution is 99.99% accurate at all times.
Enterprise security
as-standard
The I4 Mining Asset Monitor + Maintenance solution features enterprise-level technologies that enable it to mitigate cyber security risks, ensure confidentiality and provide easy disaster recovery, meaning that your solution can be back up and running in days, not weeks. Our world-leading proprietary security architecture and easy-to-use tools, you can be certain that your data is secure.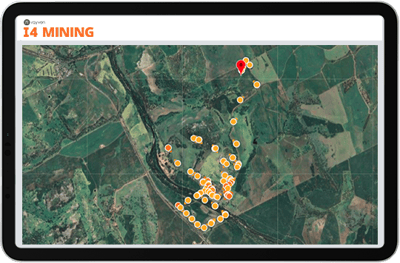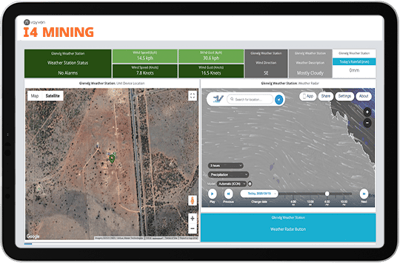 Integration &
interoperability
The complete picture that Asset Monitor + Maintenance can provide you with is reliant on it having access to the right data, at the right time. Our Asset Monitor + Maintenance solutions enable you to connect to any data source, sensor or hardware - and leverage any data format - out-of-the-box, providing you with a single source of truth through which you can analyze and predict business outcomes across your operations or individual functions.
Need help creating, optimizing or scaling your solution?


We've got option to help you achieve your business objectives rapidly.
Rayven Accelerated Delivery Model (RADM)



Jump start your scoping + design phases by using our Rayven Accelerated Delivery Model (RADM) to get you started, fast. Not a big consulting project that ends with a report, the RADM is about working with our team so that you can quickly identify potential, discover what needs to be done, and establish the budget required - all in just 4 weeks.
Our Service Packs include a bundled number of hours at a discount that can be used to support your teams with achieving your objectives spread across the calendar. They can be used for any of our services, last for 12 months, and can be configured to meet your individual needs.
Discover more about I4 Mining, our solutions and the technology that they're built upon.

Why our

customers choose

I4 Mining:

Built for the
Mining industry.
I4 Mining

is a transformative technology built by people with hands-on industry experience - it's made to not just fit, but work brilliantly.

Easy-to-use,
IT-less design.
The

I4 Mining

platform features drag-and-drop configuration and simple to use interfaces; it's designed to be used by anyone and needs no coding.

I4 Mining

's solutions can be configured and deployed in days. Start with 80% of the solution & hyper-customize the 20% that matters.

Enterprise-scalability, but affordable.
I4 Mining

's solutions are designed to be affordable. They enable you to get started, quickly adjust, iterate and grow - proving ROI at every stage.

Ultra-secure
(at all points).
I4 Mining

's solutions are built on the Rayven platform which's proprietary security architecture ensures data is secure at all points.

On top of 24/7 support,

I4 Mining

's technical and data science team are available to support you (or your customers), end-to-end.

Integrates with anything, to give a true source of truth.
I4 Mining

's solutions are limitlessly flexible & capable of integrating with systems, machinery, platforms - anything you need it to (as-standard).

Everything you need to become Industry 4.0.
Each of

I4 Mining

's solutions feature Rayven's world-leading combined AI + IoT platform, making it capable of delivering complete transformation.
I4 Mining works with

best-in-class partners

to deliver our transformational digital mining solutions anywhere in the world.
























Find out more about I4 Mining's
other
ready-to-deploy
digital mining solutions
:
Find out more about the platform that powers our solutions:


the Dynamix real-time data and AI + IoT solution delivery platform

.