How the Mining Sector can Achieve Zero Harm with Industry 4.0 Technology.
Report

How insights, interoperability, instruction and intelligence will enable miners to achieve zero harm - plus reach Industry 4.0 status in the process.
Industry 4.0 technologies present the mining sector - arguably for the very first time - with the opportunity to actually reach zero harm; an objective that most of the world's largest miners have committed to strive for.
In the report we've explored the relationship between Industry 4.0 technology and zero harm, the different applications of Industry 4.0 technology in Health & Safety (not a run-down of technology, but the use cases), and where (and how) to get started.
Introduction: Down to Zero.

The relationship between Industry 4.0 technology and zero harm.
The path to zero harm, Industry 4.0, and the need for extreme interoperability.
Why Industry 4.0 is about AI and IoT.

Health & Safety Industry 4.0 applications in mining.
Enhanced plant and equipment performance.
Real-time employee, environment, asset & operations monitoring.
Holistic operational analysis.
Added advantage.

Where to from here and implementation.
I4 Mining is a sustainability technology provider to the mining sector, offering ready-to-deploy ESG solutions that help miners to succeed both strategically and operationally without ever getting in the way of good business.
Our solutions enable you to easily develop strategies, deliver accurate sustainability metrics and reports in real-time, improve sustainability and business performance, as well as make predictive analytics and forecasts part of your everyday so that you can reduce risks and optimise from mine-to-market.
Speak to us today to book a demo and discover how you can get started on your digital sustainability journey.
Just some of what's inside...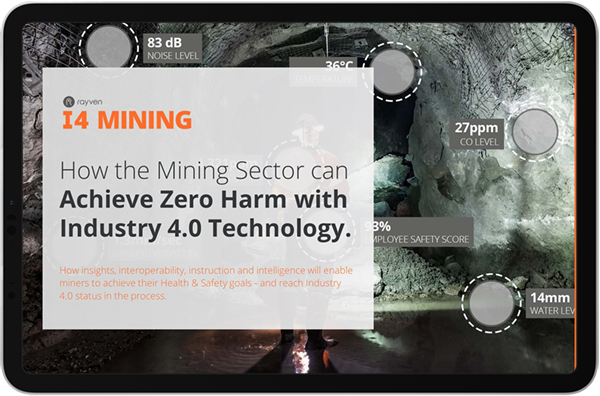 Want to know about industrial AI + IoT more broadly?
If you'd like to find out more about the technology that underpins all of our digital mining solutions, other industrial uses of AI + IoT, or are eager to get into the detail of precisely what AI and IoT technology are then visit the Rayven blog.