Environment + Community

Digital Mining Solution
Making zero harm to environment easy.
Get accurate real-time ESG metrics mine-to-market, add Industry 4.0 abilities to predict,
prevent + remediate breaches, and

achieve zero harm

objectives.
I4 Mining's Environment + Community digital mining solution is a complete environmental monitoring, management and compliance solution to help businesses achieve their ESG goals across the full mining lifecycle and lifespan.
Connecting to in-field IoT technologies, your systems and third party data sources; our solution provides you with a single platform to collate and analyze all your environmental data across the full mining lifecycle and lifespan effortlessly. Get a complete, accurate real-time overview of environmental measures across your operations as well as key performance metrics including TCFDs, SDGs, Carbon or anything else that's accessible from anywhere.
In addition, our predictive analytics engine enables you to use your solution to undertake immediate remediation actions and model optimizations based on tailored business logic, (both by human and AI), so that you can prevent environmental harm before it occurs, accomplish strategic 'zero' goals, and transform your business to achieve Industry 4.0 status.

Key business objectives met

by I4 Mining's Environment + Community digital mining solution:
Accurately monitor ESG performance + key TCFD, SDG, Carbon or any other metric

in real-time, mine-to-market

.
Track waste & monitor pollutants in real-time.

Predict & prevent harm

using easy-to-use

predictive analytics

.
Model operational changes simply,

aggregate risk profiles

, & see the effect of optimizations on zero harm goals.
Alleviate the regulatory reporting burden

& get an accurate, single source of truth for all your environmental data.

Unite business-wide environmental data, analyze it using Machine Learning, &

enhance EIAs, SIAs + Closure plans

.
Create a complete Industry 4.0 solution with

automated, AI-led decision-making

-

transform your business

.
Want to see Environment + Community in action?

Book a demo today.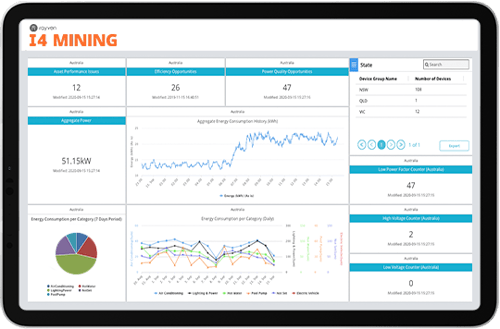 Effortlessly track these ESG + any other metrics in
real-time
:
Air pollution per metric ton of output produced
Carbon tonnage
Closure status
Diesel footprint
Electricity purchased
Embodied energy
Energy usage (MwH)
Environmental incident number
Fluoride emissions
Fuel consumption
Hazardous waste per ton of output produced
Incidents with security providers
Land footprint - disturbed
Land footprint - regenerated
Mineral waste stored / disposed
Non-mineral waste stored / disposed
NOx emissions
Operating assets located in protected areas percentage
Particulate (PM2.5 & PM10) emissions
Pollution incidents
Project delays as a result of community opposition
Proved/probable reserves in or near protected areas percentage
Radiation levels
Recycled water percentage
Recycled water withdrawals percentage
Remediation score
Renewable energy in energy mix
SOx emissions
Scope 1 emissions (tCo2e)
Scope 2 emissions (tCo2e)
Scope 3 emissions (tCo2e)
Significant environmental incident rate
Social Energy balance
Spending on site restoration
Sustainable Mining Indices
Tailings and waste per metric ton
TCFD status
TOE footprint
Total fresh water consumed
Total fresh water withdrawn
Total greenhouse gas emissions intensity
Total lifecycle energy
Total waste
Utilization of mining waste percentage
Water consumption rate
Water discharge rate
Waste recycled
Wastewater volume
I4 Mining's Environment + Community

digital mining solution features

:
Real-time environmental
monitoring: critical controls
I4 Mining's Environment + Community digital mining solution connects to your existing systems and in-field IoT technology to collect real-time data which it then compares to operational norms and programmed business logic, giving you a real-time, minute-by-minute view of critical environmental measures and operational performance metrics.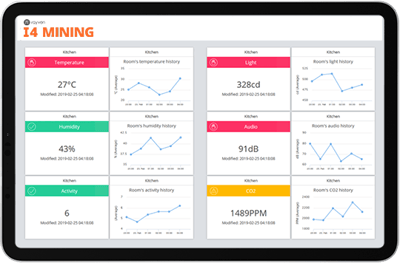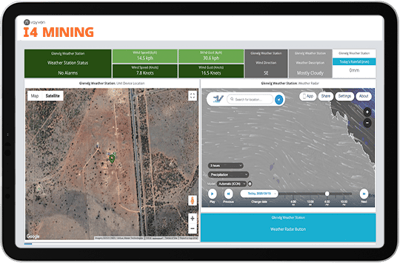 Integrate weather data, model its impact
& explore mitigation options
Integrate critical environmental data, such as weather forecasts, to deliver integrated operational modelling that can not only analyze and predict potential impacts, but which you can use to test potential mitigation work and see what its effects will be in the real-world using advanced machine learning.
Machinery failure prediction
& predictive

maintenance



Use real-time data from systems, sensors and machinery to monitor and predict maintenance needs. Use I4 Mining's Environment + Community solution to accurately forecast time-to-failure and adopt a predictive maintenance regime that reduces maintenance costs and prevents catastrophic failures.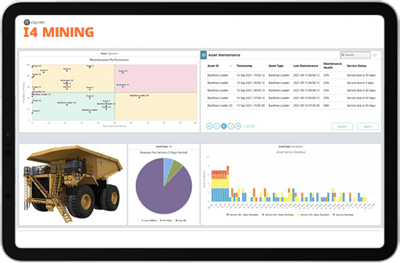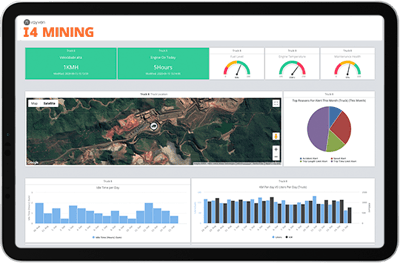 Real-time alerts & automatic




switch-offs: control



I4 Mining's Environment + Community solution enables you to monitor performance in real-time and set thresholds based on custom business or operational logic that can trigger real-time alerts and implement immediate, automated remediation action or prevent regulatory thresholds from being breached.
Dashboards, reports &
adaptive analytics
Our Environment + Community solution features easily-configurable UX-tested reports and dashboards which, coupled with our advanced adaptive analytics engine, gives you ultimate flexibility when building and exploring your dashboards and reports. It gives you unparalleled visibility over your complete operations as well as the ability to drill-down and explore individual metrics - all in the same place.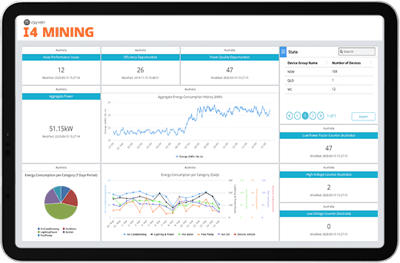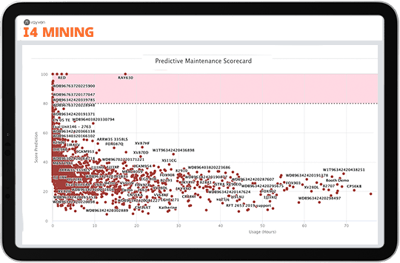 Data manipulation, cleansing
& analysis in-built
Data is critical to the performance of I4 Mining's Environment + Community solution so, to ensure data integrity and quality, the solution features inbuilt mechanisms and machine learning algorithms that can check and correct deviations and errors in your data in real-time. The result is better business outcomes in the present and 99.99% accurate measures to base your long-term strategic decisions upon.
World-leading combined




workflow modeller & AI engine



The I4 Mining Environment + Community solution features Rayven's world-leading combined AI + IoT platform, featuring drag-and-drop, codeless configuration interfaces. It's so simple to use that you do not need IT support to configure, run and optimize it and is so full of functionality that you'll have all the tools you will ever need to build and run an Industry 4.0 solution at your disposal from the start.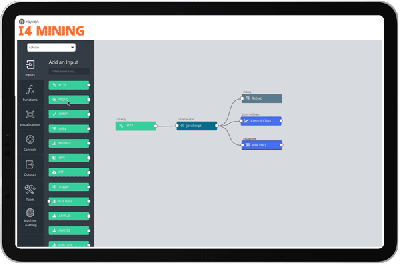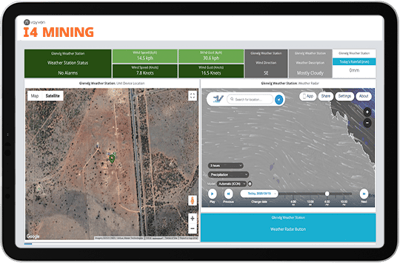 Integration &
interoperability
I4 Mining's solutions' power can only be unlocked if they have access to the right data, at the right time. Our Environment + Community solution enables you to connect to any data source, sensor or hardware - and leverage any data format - soo that you can get a single source of truth through which you can analyze and predict business outcomes across your operations.
Enterprise security
as-standard
The I4 Mining Environment + Community solution features enterprise-level technologies that enable it to mitigate cyber security risks, ensure confidentiality and provide easy disaster recovery should the worse occur. With world-leading proprietary security architecture and easy-to-use tools, the solution ensures that your data is secure at all points of your IoT environment.
Need help creating, optimizing or scaling your solution?


We've got option to help you achieve your business objectives rapidly.
Rayven Accelerated Delivery Model (RADM)



Jump start your scoping + design phases by using our Rayven Accelerated Delivery Model (RADM) to get you started, fast. Not a big consulting project that ends with a report, the RADM is about working with our team so that you can quickly identify potential, discover what needs to be done, and establish the budget required - all in just 4 weeks.
Our Service Packs include a bundled number of hours at a discount that can be used to support your teams with achieving your objectives spread across the calendar. They can be used for any of our services, last for 12 months, and can be configured to meet your individual needs.
Discover more about I4 Mining, our solutions and the technology that they're built upon.

Why our

customers choose

I4 Mining:

Built for the
Mining industry.
I4 Mining

is a transformative technology built by people with hands-on industry experience - it's made to not just fit, but work brilliantly.

Easy-to-use,
IT-less design.
The

I4 Mining

platform features drag-and-drop configuration and simple to use interfaces; it's designed to be used by anyone and needs no coding.

I4 Mining

's solutions can be configured and deployed in days. Start with 80% of the solution & hyper-customize the 20% that matters.

Enterprise-scalability, but affordable.
I4 Mining

's solutions are designed to be affordable. They enable you to get started, quickly adjust, iterate and grow - proving ROI at every stage.

Ultra-secure
(at all points).
I4 Mining

's solutions are built on the Rayven platform which's proprietary security architecture ensures data is secure at all points.

On top of 24/7 support,

I4 Mining

's technical and data science team are available to support you (or your customers), end-to-end.

Integrates with anything, to give a true source of truth.
I4 Mining

's solutions are limitlessly flexible & capable of integrating with systems, machinery, platforms - anything you need it to (as-standard).

Everything you need to become Industry 4.0.
Each of

I4 Mining

's solutions feature Rayven's world-leading combined AI + IoT platform, making it capable of delivering complete transformation.
I4 Mining works with

best-in-class partners

to deliver our transformational digital mining solutions anywhere in the world.
























Find out more about I4 Mining's
other
ready-to-deploy
digital mining solutions
:
Find out more about the platform that powers our solutions:


the Dynamix real-time data and AI + IoT solution delivery platform

.